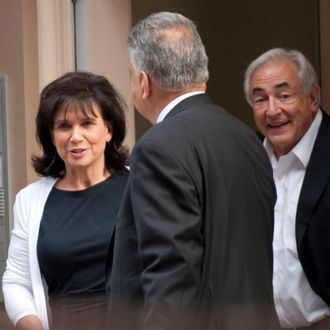 This unnamed bystander isn't all that's come between them.
Photo: DON EMMERT/2011 AFP
Former IMF chief Dominique Strauss-Kahn and Huffington Post editor Anne Sinclair have split after 20 years of marriage. A source tells Reuters that Sinclair kicked him out about a month ago and DSK is now living at a separate residence in Paris. No word on what came between these two lovebirds. Could it be the international scandal over a hotel housekeeper's alleged rape? The investigation into his role in a French prostitution ring? Maybe he won't stop clipping his toenails in the living room? Yeah, it's probably the last one.