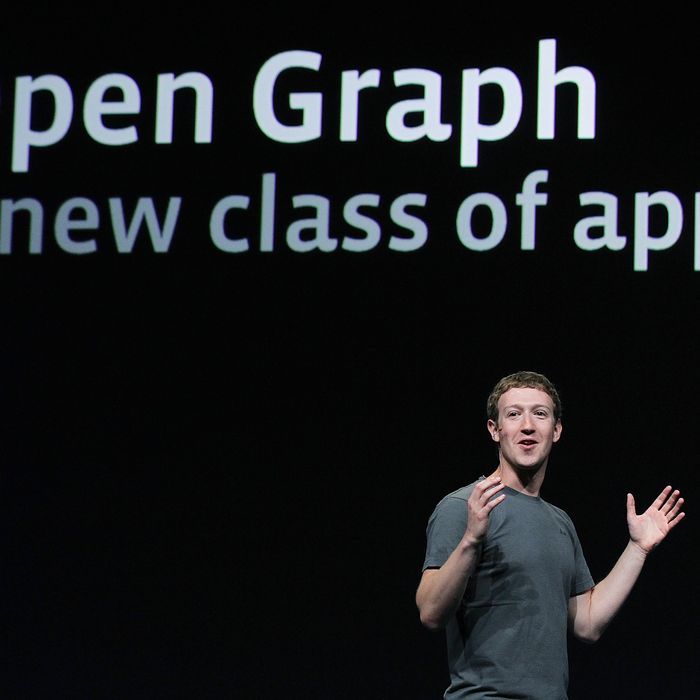 Uncle Mark wants YOU.
Photo: Justin Sullivan/Getty
Last Wednesday morning, two Wall Street workers made their way to the seventeenth floor of a Madison Avenue office tower. They walked past a red-and-orange wall mural that spelled out "Proceed and Be Bold," a quote from the architect Samuel Mockbee, and into the New York headquarters of Facebook, where lunch — pulled barbecue chicken, cornbread, and Meyer lemon meringue tarts — was being set out in the cafeteria.
The young financiers were two of the many candidates being recruited by Mark Zuckerberg's social network to fill seats in its New York engineering office. Facebook, which announced the East Coast outpost late last year, is no longer satisfied just drawing talent to California. It also wants to hire New York talent, including the best programmers firms like Goldman Sachs and Morgan Stanley have to offer.
"We want the top-notch people," said Mike Schroepfer, Facebook's vice-president of engineering, during a recent interview at the New York office about the firm's East Coast recruiting drive. "We asked ourselves, Where are all the best people? And what are the things that are inhibiting us from getting them?"
For years, Facebook resisted the pull of Silicon Alley. With a massive, nine-building campus in Menlo Park and the prestige to convince new hires to move West, it reasoned, it didn't need to compete for New York talent with the likes of Foursquare and Tumblr.
Recently, the company changed its mind. The New York office currently houses more than 100 of Facebook's roughly 3,500 employees, and is looking to expand into new real estate (it has reportedly cased out the old New York Times building) as more come on board.
Schroepfer — who had flown in from San Francisco to interview candidates last week — said that convincing Wall Streeters of the merits of a job in tech isn't hard.
"The money tends to be really good on Wall Street, but if you look at what I'm actually doing, I'm trying to shave microseconds off trades so my firm can make a little more money," he said. "What's the good you're creating in the world? What is the thing I can tell my parents?"
Part of the appeal of recruiting in New York, for Facebook, is making a play for talented programmers who can't or won't leave the city. It also gives them a chance to poach dissatisfied Wall Streeters at a time when the financial industry is reeling from layoffs and a regulatory clamp-down.
"When you work on Wall Street as a programmer, you are not the most important thing at the company," Schroepfer said. "Here, you're the rock stars. Would you rather be in the forefront of the business or in some auxiliary thing?"
Facebook will have to work hard to lure workers from financial services, where the money is still good despite the challenges the industry faces. (A third-year bank programmer might make $150,000 a year after bonus, compared to roughly $120,000, plus some stock, as an incoming Facebooker, estimated one tech-industry veteran with no direct knowledge of Facebook's compensation levels.) And there could be cultural hang-ups for Wall Streeters more accustomed to pitchbooks than hackathons.
"Facebook is fond of talking about the hacker way, which to them means 'move fast and break things,' which is not consistent with much of financial services," said Chris Wiggins, an associate professor of applied mathematics at Columbia and co-founder of hackNY. "So I think there might be some reeducation they have to do."

Serkan Piantino, who runs Facebook's New York office, may be able to help retrain Wall Street exiles. He came from Bridgewater Associates, the massive Westport-based hedge fund, to become an engineer at Facebook in 2007, and subsequently led a team that built Newsfeed.

Now, Piantino says, he likes to tell job candidates from the finance world that what Facebook can offer them — besides snacks, Nerf guns, and Wii consoles at work — is a sense of fulfillment.

"It feels really good to build things," he said. "Literally, that day, you can change something on the site and have it in front of 500 million people."

Schroepfer added, "If you drill into the motivation of engineers, most of us do it because the actual process of building things is fun."

Facebook won't say how many engineers it intends to bring on. But it insists that the people it hires in New York won't be second-tier employees, even if they are less likely to run into Zuckerberg or Sheryl Sandberg on Madison Avenue than in Menlo Park.

"Satellite is the word we don't use," Piantino said. "It doesn't describe what we're trying to do here, and the bet we're making on New York. We know this is going to be a tech hub."