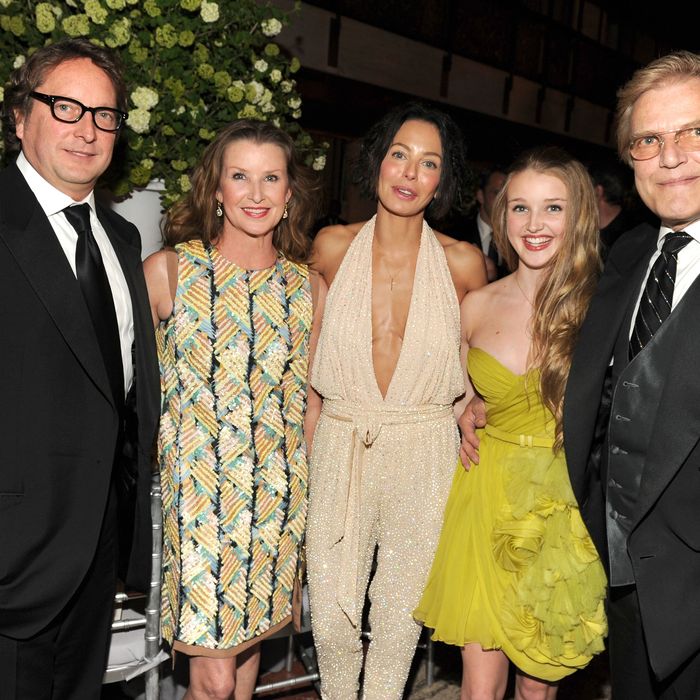 Who's sweating? Not this guy.
Photo: Patrick McMullan
Earlier today, the Securities and Exchange Commission filed charges against flamboyant hedge fund manager Phil Falcone. 
"Today's charges read like the final exam in a graduate school course in how to operate a hedge fund unlawfully," Robert Khuzami, director of the SEC's Division of Enforcement, said in a statement accompanying the suit, which accuses Falcone and his hedge fund, Harbinger Capital Partners, of using gated fund assets to pay his personal taxes, playing favorites with clients, and manipulating prices of a series of high-yield bonds though an illegal short-squeeze scheme.
But Falcone, famed for his flowing locks, fashionable wife, and fine taste, is not going to let a little thing like this cramp his style. 
Reached by e-mail on Wednesday, he appeared to shrug off the charges.
"Piece of cake," he told Daily Intel. "It's not like I'm having a heart transplant."
One part of the SEC's suit alleges that Falcone and Harbinger arranged secret "side deals" with favored clients in order to enlist their help changing a rule that would restrict other investors' rights to withdraw their money from Harbinger funds.

The SEC also alleges that Falcone misappropriated $113.2 million in client funds on a loan he used to pay his taxes. He was short on cash, the suit claims, because he had "begun extensive renovations on his Manhattan townhouses," as well as made "significant personal expenditures, including expenditures related to a private jet, a security detail, and motion picture investments."

The SEC's complaint says that Falcone and Peter A. Jenson, Harbinger's former COO, misled their lawyers while seeking advice on whether or not to take the loan. When one lawyer told Harbinger that paying off a hedge fund manager's personal taxes was "not what investors expect their money to be used for," the hedge fund decided to go ahead and arrange the loan anyway, the SEC claims.

Matthew Dontzin, a lawyer for Falcone, called the SEC's charges "not only irresponsible but completely unsupported by any evidence." Dontzin said that the agency's allegations would be "vigorously defended in the courthouse."