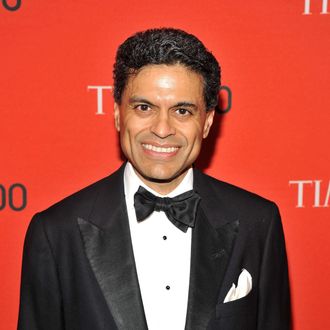 Photo: Stephen Lovekin/Getty Images
Journalist Fareed Zakaria, of CNN and Time, had already committed to giving a graduation speech at his safety school, Duke, when a real Ivy came knocking. Harvard also asked him to offer up some wisdom to the kids, and Zakaria just "couldn't say no," he told the Boston Globe. But that's a whole lot of wisdom to impart, and Zakaria, it seems, only felt that he has a finite amount to give, so he gave, basically, the exact same speech at both places. And both speeches contained elements from his commencement addresses at Johns Hopkins in 2011, Brown in 2009, and Yale in 2007.
While many hot-ticket speakers try to change things up a bit because of, you know, Google and whatnot, Zakaria didn't feel the need. Or maybe it was a meta-lesson for the kids on how, unlike in college, people get away with phoning it in once they've reached a certain level of success?
His May 24 Harvard speech started with an amusing anecdote. "To the graduates in particular," he said, "I have to tell you, you're way ahead of me already. I never made it to my commencement. … I celebrated a bit the night before the ceremony."

He opened with the same anecdote, and much of the same language, at Duke, Johns Hopkins, and Yale. Further identical language and similarities studded the Harvard, Duke, and Johns Hopkins speeches, including an anecdote concerning Art Buchwald and a stirring paragraph about enduring human talents, enlivened with a joke about modernist metal sculpture. A long bit from the Woody Allen movie "Radio Days" showed up in the speeches from Duke, Johns Hopkins, and Brown.

The substance of the speeches was the same, as well. Zakaria spoke of an age of progress, noting that dramatically fewer people die of war now than they did in the Cold War era. He praised America as "the only country in the industrialized world that is demographically vibrant." He discussed the H1N1 outbreak in Mexico at length in almost identical words.
Members of the selection committees for 2013 commencements,  any of that sound good to you? You can get an exact, vintage replica! The kids these days just love Art Buchwald, we promise.