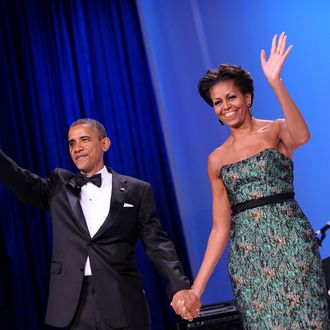 Photo: Pool/2011 Getty Images
If you're a fan of high-profile election fluff, this is your time. In the past week, we learned Romney and Obama both like chicken and Star Trek, and Romney's neighbors long for the freedom to smoke illegal substances in public places. The latest revelation:  Michelle Obama likes wearing clothing made by American fashion designers, and members of one of the most wealthy and liberal industries on the planet enjoy donating to her husband's campaign.

A lengthy new Washington Post article focuses on fashion's newfound political clout. The First Lady already has to deal with Marie Antoinette comparisons from the right, and the piece is no help. It lists in detail the many designers whose clothing she's worn in public, including the likes of Michael Kors, Tory Burch, and Diane von Furstenberg, and notes:
>
This year, the designers behind many of the labels hanging in the first lady's closet are supporting her husband's reelection campaign, hosting high-dollar fundraisers and making campaign contributions.
Yet, many haven't donated to President Obama's reelection campaign, and it seems there's no pattern to their giving or lack thereof.
Some designers have become first-time donors this year after having their designs worn by the first lady. But other big givers are not staples of the Obama closet, and some who have gotten a big boost from the first lady haven't given at all.
According to the Post's in-depth analysis, Mobama's fashion picks are neither here nor there. Perhaps there's actually something bigger driving the fashion industry's political action: They like Barack Obama's policies. Steven Kolb, chief executive of Council of Fashion Designers of America, explains:
When people are looking at who he is and lining up to support him or not, it has to do with their own personal beliefs … Social issues they think are important, such as same-sex marriage, his policies and positions on Afghanistan or what he's done in terms of economic recovery.