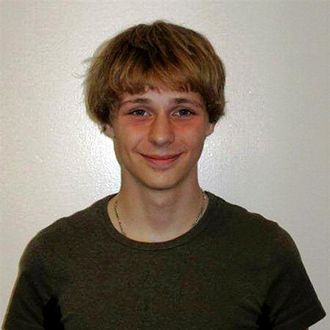 Forest Boy has matured overnight into Fraud Man.
Photo: Berlin Police
In turns out that Forest Boy is not a hipster producing some of the most mind-blowing performance art we've ever witnessed, but he's also not a lost and confused 17-year-old who lived  in the forest for five years before turning up in Berlin last September. His name is Robin Van Helsum, and he's originally from the Netherlands. After his photo was released earlier this week, he was recognized by his former classmates, and Dutch police confirmed his identity with his stepmother. When German police confronted Van Helsum, he admitted that he'd made up the whole story.
"It seems he came straight from his home town to Berlin by train and wanted a new life," police spokesman Thomas Neuendorf tells the Telegraph. "He didn't go anywhere near a forest."
Also, he's 20 years old, not 17. That's right: Forest Boy is neither a boy, nor was ever in a forest. We should probably stop referring to him as Forest Boy. Maybe Fraud … Man? Fraud Man.
Fraud Man won't be forced to return to his wicked (we're assuming) stepmother, but he may — appropriately, given his new name — face charges for fraud:
"He has been looked after by German authorities since September. He received money, clothes, housing and education and all because he told us lies. There may well be a case of fraud."

Reports said his care cost German taxpayers around £5,000 a month.
And now there's no more money to save the Spanish economy. Thanks a lot, Fraud Man.