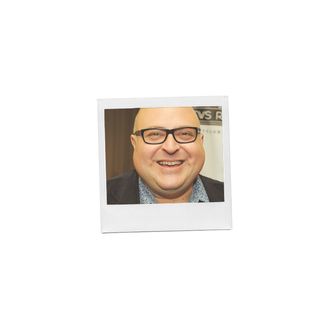 Photo: Andrew H. Walker/Getty Images
Name:  Frank DeCaro
Age:  49
Neighborhood:  SOFIA (South of Flatiron … Almost)
Occupation:  Sirius XM radio talk-show host and author of The Dead Celebrity Cookbook. He's taking part in the Pride concert "Night of a Thousand Judys," a Judy Garland tribute on June 18 at Playwrights Horizons, to benefit the Ali Forney Center. 
Who's your favorite New Yorker, living or dead, real or fictional?
Batgirl. She wore a red wig and her motorcycle had fringe on it!
What's the best meal you've eaten in New York? 
The first time I went to Gotham Bar and Grill back in the late eighties to experience a "vertical" seafood salad, I sat across from Bruce Springsteen and he ate with his mouth open. I dined out on that story for years. Apparently, I'm still telling it.
In one sentence, what do you actually do all day in your job?
As Bette Midler once said, "I turn chicken shit into chicken salad." 
What was your first job in New York? 
I was a fashion writer at New York Newsday and I was good at it, despite the fact that I'm color-blind and my taste makes Liberace's look understated.
What's the last thing you saw on Broadway? 
Leap of Faith, which didn't suck nearly as bad as everyone said it did.
Do you give money to panhandlers? 
Change, yes. The chocolate-chip cookie from Levain that I'm about to eat on the subway, no.
What's your drink? 
A Maker's Mark Manhattan at Feinstein's, or a Negroni at the Monkey Bar. Both straight up.
How often do you prepare your own meals? 
Once a month … which is a shame because I'm a really good cook.
What's your favorite medication? 
NyQuil.
What's hanging above your sofa? 
Two Mexicans on a scaffold who are so over seeing me naked.
How much is too much to spend on a haircut? 
I'm bald. You can't spend too much on your hair.
When's bedtime? 
2 a.m.
Which do you prefer, the old Times Square or the new Times Square? 
The new Times Square. I truly don't miss running for my life from the Port Authority to the Shubert Theatre to see A Chorus Line when I was a New Jersey teenager obsessed with Broadway.
What do you think of Donald Trump? 
Anyone who calls Cher a "loser" is dead to me.
What do you hate most about living in New York? 
The lack of space. I'm a hoarder. I would like to live in a warehouse with a king-size bed, an enormous flat screen, and shelves as far as the eye can see.
Who is your mortal enemy? 
Jon Stewart. People are always stopping me and saying, "Frank, I miss you on The Daily Show." I tell them, "Not as much as I miss me on The Daily Show."
When's the last time you drove a car? 
I drive every weekend! My husband and I are both originally from New Jersey and we keep a car in the city. A parking space is our biggest luxury.
How has the Wall Street crash affected you? 
Not at all. We were living from paycheck-to-paycheck before the crash; we're living paycheck-to-paycheck now. I don't advise living that way, but I do have fabulous shoes.
Times, Post, or Daily News?
The New York Times every morning. Obituaries first. When you're the author of The Dead Celebrity Cookbook, you have to keep up. (They don't call me "The Gay Reaper" for nothing!)
Where do you go to be alone?
My house in New Jersey.
What makes someone a New Yorker? 
The inability to resist telling complete strangers where to eat.