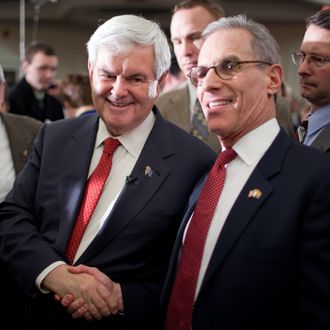 Photo: Matthew Cavanaugh/Getty Images
Fred Karger, the California political strategist and first openly gay Republican presidential candidate you've never heard of, took some time to reflect to the L.A. Times on his failed, low-profile bid for the White House. While Karger never believed he could actually win the race, he does, it seems, regret that his national profile never was higher. In particular, he wishes that he could have scored an invite to one of the national debates, if only as an inspiration to others.
"I want to send the message to gay younger people and older people and everyone in between that you can do anything you want in life, and don't feel bad about yourself and don't feel you have to live your life the way I did," said Karger, who was closeted until middle age. He added, later, that if he'd made it onstage, "Anything could have happened. I could have been the gay Herman Cain! … Without all the groping." Dream big, kids?