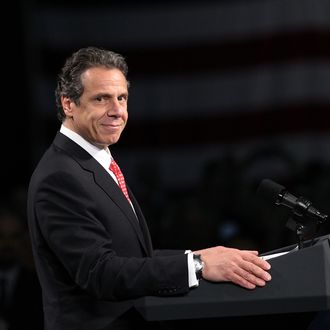 Photo: Spencer Platt/2012 Getty Images
It's hard to believe that the gambling industry could be involved in shady dealings, but a $2 million contribution from Genting and other gambling interests to a group closely aligned with Andrew Cuomo has stirred controversy over the governor's push to legalize gambling in New York. The New York Gaming Association, a group founded by Genting and several other companies, donated the money to the Committee to Save New York, a business and trade union group that spent $12 million promoting Cuomo-approved causes. Curiously, the money was donated in December, around the same time that Cuomo started publicly pushing his proposal to build more casinos in the state.   
In January, Cuomo announced a partnership with Genting to develop a convention center and casino at Aqeduct race track in Queens. Those plans fell through, and on Monday, the governor said he would begin hearing proposals from other companies. James Featherstonhaugh, president of the New York Gaming Association, didn't do much to dispel the idea that Cuomo might have been influenced by the contributions. Rather, he told The Wall Street Journal:
It was my understanding that [the Committee to Save New York was] going to be somewhat supportive of the general concept of the expansion of gaming … Otherwise, we wouldn't have done it.
However, both the Committee to Save New York and the governor's office insist the donation had nothing to do with Cuomo's sudden support for casino gambling. "We are proud of our track record, and if there are people who felt they were getting something more for contributing to C.S.N.Y., then they are simply wrong," said a representative from the committee.
The governor's office argues that Cuomo can't be a puppet of the gambling industry since he's been laying the groundwork to challenge the constitutional ban since last summer and opposes a few of the industry's proposals. "To try to suggest an improper relationship between the governor and gaming interests is to distort the facts in a malicious or reckless manner," said a spokesman.