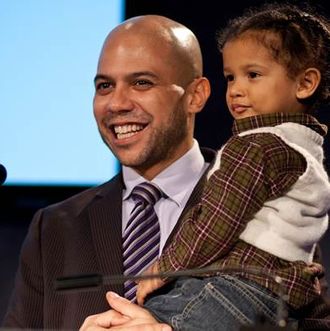 Photo: Courtesy of The Sparrow Project
George Martinez, the "hip-hop diplomat" running as an Occupy candidate in the 7th Congressional District, is making a point of avoiding corporate donations in favor of grassroots support. But as the Village Voice reports today, the atypical underdog campaign is already hitting the system's roadblocks: Because small races don't warrant polling, NY1 uses campaign donations and spending to decide which candidates get asked to its debate. Martinez didn't make the cut, but he's not giving up yet.
"Several candidates who are on the ballot in several of the races have filed with the Federal Election Commission but shown no evidence of any campaign activity and have not been invited to participate in our debates," NY1 said in response to Martinez's supporters. "Can you provide any evidence that George Martinez has been running an actual campaign by getting donations from voters in the district and spending the money on basic campaign expenses? If so, we'd reconsider our decision."
Martinez told us last week that he's running an "actual" campaign by canvasing his neighborhood daily, claiming to have made the ballot for the June 26 primary. "The real framework is that we're building a do-it-yourself democracy model, crowd-funded, the best we can," he explained. "It's volunteers and small donors across the board — we are not taking any corporate money. Like in [Zuccotti Park], we're asking people to bring their individual talents to create this tapestry."
Martinez's debate hopes aren't completely shot yet. In a statement, the campaign said their candidate "has indeed been approved by the Board of Elections, and submitted all required Federal Elections Committee (FEC) paperwork" and that "he was not required until recently to submit an FEC financial disclosure form because his campaign had succeeded in getting nearly 3,000 signatures and his place on the ballot without spending the minimum disclosure amount of $5,000." The debate, meanwhile, has been postponed due to the death of Congresswoman Nydia Velazquez's mother and has not yet been rescheduled, at least as far as the Martinez campaign knows.