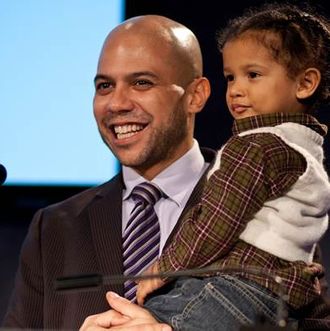 Martinez.
Photo: Courtesy of The Sparrow Project
George Martinez, the "hip-hop diplomat" and Occupy Wall Street protester running in Brooklyn's new 7th congressional district, got crushed last night as 20-year House veteran Nydia Velazquez coasted to victory. Only City Councilman Erik Dilan even got close, collecting 31 percent of the vote to Velazquez's 58 in the Democratic primary. But despite earning just 752 votes — less than 3 percent — Martinez is proud of his brief campaign. "Relative to the current reality of the political system, I was not entirely surprised," he told Daily Intel today. "We raised less than one percent of what the winner had and got 3 percent of the vote in about two months. That's something spectacular."
Martinez had higher hopes, or at least a politician's spin and spirit, when he told us earlier this month, "We are absolutely in this to win this." But at the time, he also insisted, "The real framework is that we're building a do-it-yourself democracy model, crowd-funded, the best we can." That model will continue, Martinez said, under the Bum Rush the Vote banner with the candidacy of his close friend Jelani Mashariki, who will run for the victorious Hakeem Jeffries's vacant State Assembly spot.
"My candidacy reflected a larger call for direct electoral action in the first place, so I'm not at all disappointed," Martinez stressed today. "It's hard to analyze this particular type of candidacy from a normal political kind of lens." Whereas that would make it look like complete failure, Martinez prefers for "most folks [to] recognize that getting involved in the process is our right and we should continue to celebrate that." That way, despite other struggles, the Occupy spirit might live on a little bit longer.