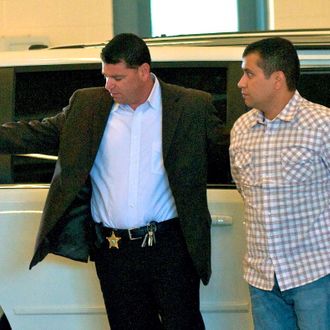 Zimmerman this afternoon. (Roberto Gonzalez/Getty Images)
As expected, George Zimmerman returned to jail in Florida this afternoon, having had his bond revoked by Judge Kenneth Lester Jr. two days ago. Zimmerman, who is charged with second-degree murder in the killing of 17-year-old Trayvon Martin, was ordered to surrender to police after prosecutors argued that he lied to the court about his financial situation. Prior to his release on relatively low bail of $150,000, Zimmerman claimed to be "a disabled veteran" without "a great deal of income," though as lawyer Mark O'Mara later revealed, he'd raised at least $200,000 via a fund-raising website.
O'Mara did his best to take the ruling in stride, telling reporters, "Judge Lester runs a very tight courtroom, as well he should. He didn't believe they were being as straightforward and honest as he wanted them to." Meanwhile, Zimmerman himself showed up in a white minivan at the Sanford jail at around 1:50 p.m. this afternoon, less than an hour before the judge's deadline. He was accompanied by two sheriff's officials and, as usual, avoided the press as he walked inside. The jail's website now lists him as an inmate being held without bail (and, as HuffPo notes, with $500 in his commissary account.)
Zimmerman's defense team plans to ask for another bond hearing, and maintains his access to money is limited, despite the funds raised from the website. (They say that cash is in an independent trust that their client cannot draw from.) They also hope that his voluntary surrender will prove he is not a flight risk, despite the fact that he had, until recently, been in an undisclosed location outside of Florida. (This is said to be out of concern for his safety.) The judge has promised that Zimmerman will be given the chance to "explain himself" in court shortly, but all this (alleged) shadiness is not doing much for his credibility — something he'll need quite badly when the case goes to trial, as much of the jury's decision will rest on his personal account of what happened the night he shot Martin.