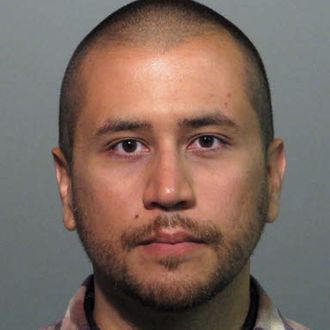 Trayvon Martin shooter George Zimmerman, who stands charged with second-degree murder, and his wife Shellie, who faces her own perjury charges, spoke often before his original bail hearing, trading the I love yous expected of a couple torn apart. But according to prosecutors, they also conspired to hide the piles of money Zimmerman was raising for his defense online. And not very well, employing a code more obvious than kids trying to trick their parents with a secret language. The Orlando Sentinel reports:
>
In the calls Zimmerman makes repeated reference to "Peter Pan", an apparent reference to PayPal.

And neither he nor his wife ever refer to more than $100,000, talking instead about amounts generally totaling "10" and "20". Prosecutors say those were references to $10,000 and $20,000.
Zimmerman was granted bond of $150,000 after his family and wife testified that they were low on funds, but was thrown back in jail when a judge ruled that Shellie lied under oath. Today, prosecutors released six calls between the couple, walking back their original intentions to release 151 calls.
While he was inside the first time, though, George and Shellie traded reassurances between working out the PayPal details:
SHELLIE: After this, we go over, you're gonna be able to just, have a great life.
ZIMMERMAN: We will.
SHELLIE: Yeah, we will. You're
ZIMMERMAN: I'm (inaudible) excited.
SHELLIE: Yeah, you should be. You should be excited.
They also discussed Zimmerman getting out on bail, and how to keep him from the press. The Sentinel reports that his choice of words was not ideal:
… "Well, I have my hoodie," he says, a possible joke, referring to the hooded sweatshirt Trayvon Martin wore the night Zimmerman shot him in Sanford, Feb. 26.
And then there's the talk of life behind bars, specifically shower day on least two occasions:
ZIMMERMAN: Good well, hopefully I'll get to shave soon and, maybe cut my toenails and, go from there.
SHELLIE: Tomorrow on shower day?
ZIMMERMAN: Yeah
SHELLIE: yep, yep.
ZIMMERMAN: (inaudible)
SHELLIE: That's good
ZIMMERMAN: I hope