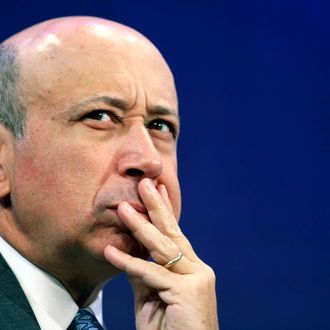 Photo: Jin Lee/Bloomberg via Getty Images
The vampire squid has lost another tentacle or two: Goldman Sachs quietly laid off around 50 employees last week, reports Dealbook. Many of those who got the ax weren't just spreadsheet monkeys, either; they were managing directors on what the Times describes as the "higher end" of the pay scale for that job description, where the pay scale starts at about half a million.
These weren't the first recent layoffs at the company — there have been about 3,000 jobs cut and $1.4 billion in expenses slashed from the budget in the past year, but that this targeted strike aimed higher up the food chain isn't going to be exactly reassuring to employees inside Goldman; more layoffs look likely unless the firm's performance (and the markets) rebound this year. That recent charm offensive of Goldman's might have to be deployed inside the building, too.