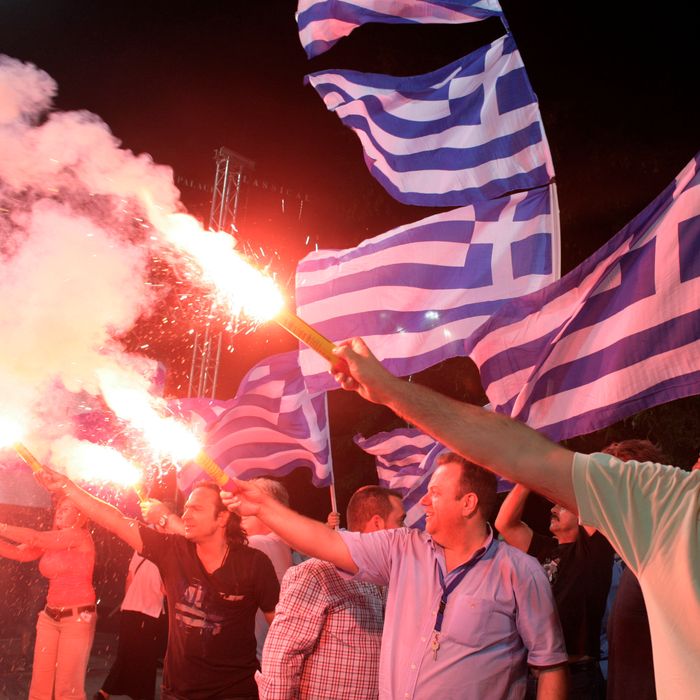 Photo: Milos Bicanski/2012 Getty Images
Today, as wildfires raged on the outskirts of Athens and happy Hellenic soccer fans reveled in their Euro Cup quarterfinal placement, the world's attention turned to Greece's make-or-break election. What's at stake is, some say, the future of the euro and Europe as we know it. And it all comes down to whether the Greeks vote in a new government that sticks with the controversial bailout plan imposed by the so-called troika, with German Chancellor Angela Merkel's blessing. So far, exit poll projections seem to augur semi-good news.
With 99.85% of the vote counted, the conservative New Democracy (pro-bailout) party has nabbed 29.6 percent of the vote, narrowly edging out the leftist (anti-bailout) Syriza party with 26.9 percent. In third place, the Socialist (pro-bailout) Pasok party is looking at 12.3 percent. The best-case scenario — for Europe' at least — is a New Democracy–Pasok coalition government, which could command as many as 161 seats in parliament and well above the 151 minimum required.
But the political calculus may not be quite that simple. The Kathimerini Greek Daily and Business Insider have both confirmed with Pasok officials that the party may refuse to join any government that does not include Syriza; and the BBC is now reporting that just minutes ago Pasok's leader called for a national unity government with 37-year-old Alexis Tsipras' Syriza as a partner.
Tsipras — dubbed "the world's most important man this weekend," by India's Economic Times — has vowed that, were he to win, he would renegotiate the bailout plan within the first ten days. Yet Merkel and other European leaders have already gone on record ad nauseum saying that current bailout and austerity plans must be maintained for Greece to remain in the euro, which Tsipras claims to still support.
That showdown may be avoidable, though, as a New Democracy–Syriza–Pasok coalition is already dead in the water. News reports have Tsipras conceding the election to New Democracy's Antonis Samaras, but declining to join any power-sharing arrangement. Instead, he pledged to "continue our struggle" to roll back Greece's bailout and crippling austerity.
Which now puts Pasok in a bit of a bind. If it does not join New Democracy, it could mean deadlock, new elections, and further market instability. But it is understandably reticent to allow Syriza, and Tsipras, to play the populist opposition while others make the hard decisions, laying the way for a stronger showing in the next elections.
Whatever Pasok decides over the next few hours—and how the global markets react — the world will be watching very carefully for any warning signs for the future, especially any that read G-R-E-X-I-T.
UPDATE:  Though Evangelos Venizelos, Pasok's leader, called for a coalition government including Syriza earlier in the day, officials say the Socialist party has started informal talks with New Democracy, and Venizelos and New Democracy's Samaras are prepared to move forward on their own. Per the Wall Street Journal:
"Venizelos and Samaras agree that a coalition must be worked out as soon as possible. Now that it has become clear that Syriza won't participate, the process can move quite fast," said a senior Pasok party official with direct knowledge of the talks. "Senior officials from both parties are already talking. The expectation is that a deal will be reached by Wednesday."
This post was updated to include more current election results.