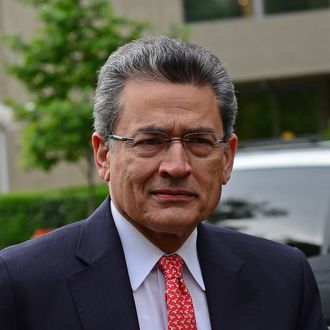 Rajat Gupta
Photo: EMMANUEL DUNAND/2012 AFP
Rajat Gupta, the former board member of Goldman Sachs and Procter & Gamble and former global head of consulting giant McKinsey, has been convicted on four criminal-securities-fraud counts in his insider trading trial, while being found not guilty on two other counts, reports the Times.
Gupta, whose trial lasted nearly a month and included testimony from corporate celebrities like Goldman Sachs CEO Lloyd Blankfein, was accused of tipping off Raj Rajaratnam, the Galleon Group hedge fund manager who is now serving an eleven-year prison term, to earnings and other market-moving information before it became public. He was convicted after just a day and a half of deliberation.
Gupta is by far the biggest domino to fall in a wide-ranging insider trading crackdown engineered by U.S. Attorney Preet Bharara, whose face graced Time magazine's cover earlier this year under the headline, "This Man is Busting Wall Street." After the verdict was read, Bharara crowed: "Having fallen from respected insider to convicted inside trader, Mr. Gupta has now exchanged the lofty board room for the prospect of a lowly jail cell."
Gupta's lawyer, Gary Naftalis, said in a statement, "We are pleased that the jury acquitted Mr. Gupta on a number of significant charges, including the only charge related to Procter and Gamble. We are obviously disappointed in the jury's verdict with regard to the other counts, which are based on the hearsay wiretaps of Mr. Rajaratnam." He added: "This is only Round One. We will be moving to set aside the verdict and will if necessary appeal the conviction."

As a Goldman board member and the first non-American head of McKinsey, Gupta was among the most trusted people in business, a confidante of market-makers and titans of industry alike.
But despite a steady parade of defense witnesses brought in to testify about Gupta's integrity, a flood of circumstantial evidence introduced by prosecutors proved too much for jurors to overlook. The evidence showed Gupta placing scads of calls to Rajaratnam, often mere seconds after he'd received confidential information about Goldman or other companies. Rajaratnam's Galleon Group, prosecutors said, used that information to place trades that made millions of dollars when the news became public.
In the monthlong trial, Gupta barely broke a stone-faced expression, his wife and four daughters seated behind him in the observation galley. Earlier this week, Gupta's oldest daughter, Geetanjali, testified that her father had a falling out with Rajaratnam, a turn of events that defense lawyers hoped would show that Gupta had no motive to tip the hedge fund manager.
After seeing his daughter come to his defense, the Times wrote, "Mr. Gupta was overcome with emotion, his eyes welling with tears."
But tears weren't enough to sway jury members, who had seen exhibit after exhibit tying Gupta's inside information to Rajaratnam's illicit trades.
"It's not another coincidence, ladies and gentlemen," prosecutor Richard Tarlowe told the jury during closing arguments.
In fact, that may be the enduring lesson of the Gupta trial: In an age when Wall Street's venality is simply assumed by the general public, even circumstantial evidence of cheating, piled high enough, is enough to put a jury beyond the threshold of reasonable doubt.
Gupta's sentencing is scheduled for October 18. He faces up to twenty years in prison on each of his three fraud charges, and up to five years for conspiracy.
This post has been updated to include attorneys' statements.