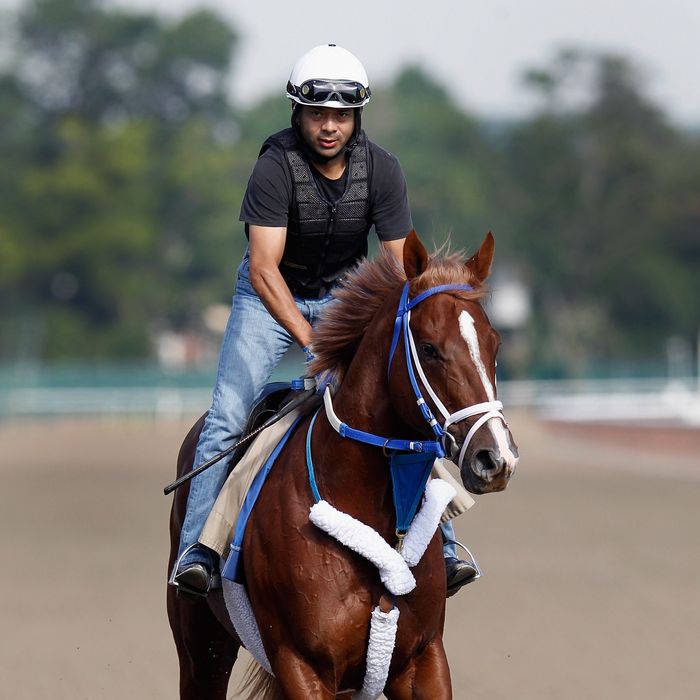 New York-trained Guyana Star Dweej.
Photo: Rob Carr/2012 Getty Images
Guyana native and Woodmere, New York, resident Doodnauth Shivmangal has spent the past week gleefully preparing his major long shot horse for Saturday's Belmont Stakes in Elmont, New York, the final leg of horse racing's elusive Triple Crown. The owner and trainer of Guyana Star Dweej (named for a star horse from Guyana, Dweej is a Hindi word meaning born again) immigrated to Queens in 1984, and according to friends, this is his big shot. However, one so-called friend isn't so optimistic about the 50-1 horse. "Realistically, he doesn't belong in the race," the guy said.
The Belmont Stakes will feature heavy favorite I'll Have Another, which seeks to become the first Triple Crown Winner since Affirmed in 1978. But Shivmangal isn't interested in witnessing history. "I've come here and made good use of this country, despite having many hurdles," he said. "I'm a New Yorker, I went through 9/11, and I'm a Mets fan from Queens. I want a New York–trained horse to win a Triple Crown race." It's a compelling argument, but he and the Mets faithful already got their franchise's first no-hitter this month.