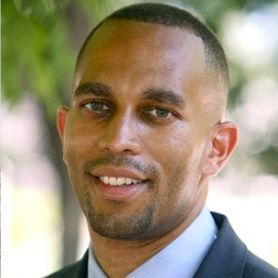 Jeffries.
Photo: The Local: Fort Greene/Clinton Hill/Flicker
With 94 percent of precincts reporting as of this writing, Assemblyman Hakeem Jeffries (D-Fort Greene) has been declared the winner of the Democratic Primary in New York's Eighth Congressional District. Provocateur and City Councilman Charles Barron made the race interesting with a late surge but will end up taking a drubbing as Jeffries currently leads with 72.1 percent of the vote to Barron's 27.9 percent.
Jeffries will match up against Republican Alan Bellone, a self-described businessman, who ran unopposed on the Republican side. Bellone faces an uphill battle against Jeffries in the heavily Democratic district. Fifteen-term Congressman Ed Towns announced in April that he would not seek re-election in the recently redrawn Eighth district, which includes parts of Brooklyn and much of Manhattan's West Side.
Never shy at the microphone or with his views, Barron once likened Gaza to "a concentration death camp." His candidacy troubled Jewish groups including the Anti-Defamation League and the National Jewish Democratic Council PAC, among others. The ADL wrote on its website that Barron "has associated with anti-Semitic hate groups and promoted extreme anti-Israel positions intended to demonize the Jewish state since his election in 2001," while the National Jewish Democratic Council PAC sent an e-mail warning shot titled "An Anti-Semite Looms in Brooklyn."
Jeffries used the anti-Barron sentiment to his favor, spending much of Tuesday mobilizing Jewish voters. And Jeffries made it worth their while: The Times reports that Jeffries' campaign provided trays at its party Tuesday night labeled "kosher" that included fruit, salad, and sandwich wraps.
This post was updated throughout.

*An earlier version of this post incorrectly stated that the eighth district includes parts of Manhattan. Following the redrawing, it does not.