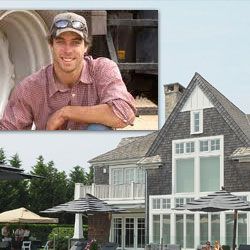 We like this guy.
Photo: Michael Loccisano/Getty Images, Courtesy of Joe Schwenk
We've always loved stories about the Hamptons — where self-awareness goes to die — but we could never afford the Jitney tickets to go find the tales ourselves. Then Joe Schwenk arrived.

Schwenk, the self-described "house watcher" and third-generation East Hampton native behind the aggressively funny @HamptonsBorn account, runs a contracting business with his brothers and tries to "play nice with city people." He began using Twitter as a dumping ground for the outrageous things he sees.

Written from the perspective of a well-placed local with an aversion to "hedgies" and "citiots," @HamptonsBorn has been building a steady following, and was described by CNN producer Jonathan Wald in a tweet as "Northern Exposure meets Big Bang Theory meets … Girls."
Some of our favorites:
Saving a boat that broke free from a mooring. Name of boat "just watch me". Should be "just watch me sink". Hedgies:pls learn to make a knot

Just got $1000 from a Greek guy who rented a big ass house on Dune Rd. He said make sure everything works. I'm looking at his GF in her robe

Taking it in for service, I just found a vibrator in the front seat of Ms. K's Mercedes convertible. Had a Marvin Gaye CD in the radio too.

The louder the woman, the smaller her dog. #itsnotadogitsarat

Found another squatter couple sleeping in a hedgie's pool house. They stored health food in the fridge and painted landscapes during the day
Especially good is Schwenk's "Hamptons Request of the Day" series, which details the outrageous tasks he carries out for clients. (He didn't want us to give the name of his business, because "Some of my brothers don't like the tweeting.")
Hamptons Request of Day: Buy 10 electric kid's dirt bikes & make a 1/2 acre temp dirt track in Hedgie's back yard for 10th bday party ($23k)

Hamptons Request of the Day: Drive a poodle back to NYC while owners catch a copter ride w/rich friends. Sorry Muffy,they got a better deal!
Equal parts subversive wiseass and earnest defender of the Hamptons he grew up in, Schwenk is Twitter's best chronicler of the quirks of the summer crowd. Schwenk agreed to a Q&A with Intel — over Twitter DM, natch — about his life and times. 

In twenty words or less, who are you?
Mid 30s guy who, along his brother and two others, help the rich and helpless transition from concrete to grass.

When and why did you start tweeting?
About two years ago to keep a record of what I see, hear, and am asked.

What do your clients think of your feed?
Those who know pay their bills promptly.

What is a "citiot"?
A few years ago, I saw a sweating woman in tights wearing a cell phone headset scream "I told you to make it with RICE MILK! RICE MILK! RICE MILK!" to a clerk at a juice bar. My friend said to me, "citiot."

Rank the following by obnoxiousness: Easthampton, Southampton, Bridgehampton, Sag Harbor, Sagaponack, Montauk. 
Towns aren't obnoxious. People are.

What's the craziest request you've ever gotten?
Bought 200 cashmere sweaters for a labor day beach party where the host's pilot was convinced the temperature would drop fifteen degrees after 10 p.m.

Do you feel bad taking people's money in cases like that?
Nope. Brought needed cash into the local economy.

Can you tell us any celebrity stories? I could read a whole book about the Donna Karan squatter.
If I told you, I would have to kill you.

You seem to have a love/hate relationship with the Hamptons. Which feeling is stronger?
This is a special place. And many people fight to be here. Where else can you see corn grow to the ocean?

What's the biggest secret about the Hamptons?
Many farm families can sell their land and rake in hundreds of millions. They don't because they are more interested in maintaining their way of life than making cash. Farm-family-owned land provides the vistas that make this place so special. So when you see a tractor ramble by your backyard, dusting up your custom windows, be thankful — don't throw a woman's heel at the windshield.