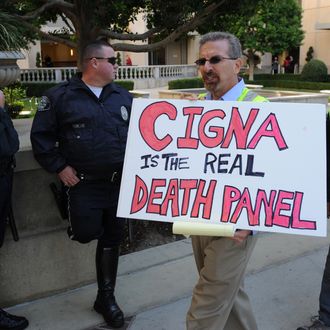 Not the image they're shooting for.
Photo: MARK RALSTON/2009 AFP
Though the Supreme Court ruling on the Affordable Care Act won't be announced until next week (time traveler Richard Mourdock hasn't gotten back to us about the exact date), health insurance companies are already preparing for the individual mandate to be upheld. Suddenly, millions of uninsured Americans would be in the market for health coverage, and companies are realizing that to compete for these new consumers they should probably do something about the fact that most people hate them. Rather than addressing the reasons people dread interacting with their health insurance company almost as much as they dread dental work, major insurance providers are rolling out new ad campaigns and pushing their own versions of Groupon.
The insurance companies' plan is to emphasize that they're consumer friendly and in the business of keeping people healthy, not just denying claims. Thus, Cigna has rolled out its "Go You" campaign, which features odd philosophical quotes begging for the Jack Handey treatment, such as, "Deep inside you there's a person who refuses to be kept deep in side you." Humana's new ad shows an idyllic family reunion and discusses the fulfillment that only loved ones can bring. (If you're recently divorced or chronically single, you'll recognize it as the commercial that sparked your last crying jag.) And EmblemHealth is focusing on its employees, who declare in ads, "You really develop a connection with someone when you can look in their eyes and help."

Aside from vague feel-good slogans, health insurance companies are also providing perks seemingly inspired by loyalty programs and shopping deal websites like Groupon. Per the New York Times:
… Humana has created a program that rewards members for healthy behavior like losing weight or quitting smoking, awarding points that can be redeemed for things like hotel reservations, electronics and clothing.

One of the biggest insurers in the country, the Blue Cross and Blue Shield Association, recently updated its daily deals Web site, which offers members discounts on things like eye surgery and gym memberships. Aetna introduced a digital tool that allows consumers to compare out-of-pocket expenses. "Ah, the potential of putting people first," says the narrator of its ad.
Even if the individual mandate is struck down, health insurance companies are still set on humanizing their image, since being despised isn't generally good for business. For the majority of Americans who have a health insurance provider foisted on them by their employer, the new campaigns just mean they'll see more of those weird ads for products you can't really buy. What would really make an impact is health insurance companies cutting down on bureaucracy and fighting members less over what is and isn't covered. Though, as Harvard Business School professor and healthcare expert Regina Herzlinger tells the Times, "The nature of the business is that they really are not that eager to O.K. every expense."