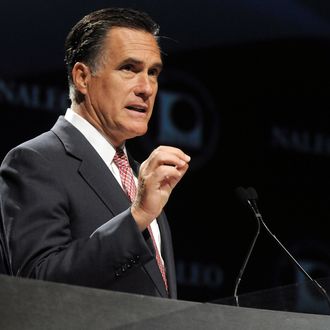 Elect me and I will repeal it!
Photo: Gerardo Mora/Getty
In less than twelve hours after the Supreme Court delivered its landmark ruling Thursday upholding President Obama's Affordable Care Act, the Romney campaign raised $3.2 million and counting in donations through its website, according to Romney spokeswoman Andrea Saul. Considering that Romney and the RNC had about $107 million on hand at the end of May, the figure itself may not seem that significant. However, Buzzfeed reports that the donations poured in from more than 30,000 individual donors. By comparison, Romney's campaign only received 27,661 individual donations during the entire month of May.

Romney's campaign spurred the outpouring Thursday with a letter to supporters seeking to capitalize on ill feelings toward Obamacare and the Supreme Court's decision. It's worth noting that the letter didn't specifically mention the individual mandate (an element of Romneycare) that Chief Justice John Roberts surprisingly backed along with the more liberal justices. The letter reads in part:
It was always a liberal pipe dream that a 2,7000 page multi-trillion-dollar Federal Government takeover of our health care system actually could address the very serious problems we face with health care. With Obamacare fully installed, government will reach fully half of the economy — that is the recipe for a struggling economy and declining prosperity.
Of course, the Democrats didn't pass up the fund-raising opportunity either, with Vice-President Joe Biden, Democratic Congressional Campaign Committee Chairman Steve Israel, and Obama 2012 campaign manager Jim Messina all sending out e-mails soliciting donations before and after the ruling. (Obama only asked people to add their name to his supporter database and encouraged them to buy bawdy pro–health reform gear on Twitter.) The Obama campaign declined requests to reveal how much was raised following the health care win.
Pro-Romney super-PACs have made a splash so far with massive contributions from rich guys, but the Romney campaign has lagged behind Obama when it comes to donors who give small amounts. In May, only 15 percent of Romney's total donations came from people who gave $200 or less, while 40 percent of Obama's money came from small donations. Many Romney supporters have already donated all that they can under federal campaign limits. However, on Thursday, the Romney campaign managed to capture the enthusiasm of regular conservative folks who may have been on the sidelines thus far, and turned that feeling into cash.