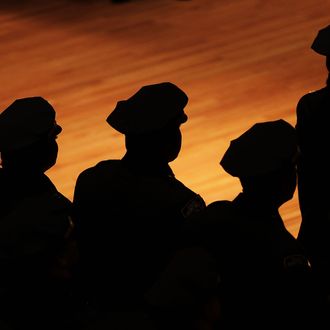 Photo: Spencer Platt/Getty Images2012 Getty Images
Justice Thomas D. Raffaele of the New York State Supreme Court may be too nice to sue the NYPD officer who he says karate-chopped him in the throat last week, but the homeless man who was on the receiving end of some alleged police brutality doesn't have the same reservations. Charles Menninger's attorney says he was badly injured in the incident and will sue the city for $5 million.
Menninger was standing on a corner in Jackson Heights last Friday night when police ordered him to drop the pipe he was holding. He says he did what they said, but they threw him to the ground anyway. "They both beat me while I was handcuffed," he writes in legal documents. Justice Raffaele says that he saw the officer who hit him jam his knee into Menninger's back repeatedly, even though he was already restrained and lying face-down on the pavement.
Justice Raffaele has identified the officer who he says attacked him, mistaking him for one of the onlookers complaining that the police were being too violent. Police Commissioner Ray Kelly reports the officer hasn't been removed from his regular duties. "We have to assemble the facts and, obviously, talk to officers who were on the scene," Kelly says. "That's all being either conducted now, or will shortly be conducted by the Internal Affairs Bureau."
The involvement of a scrupulous judge is no longer the officer's biggest problem. Menninger's attorney says he has photos of "incredibly substantial bruises" on his client's back, and the entire incident was caught on tape.