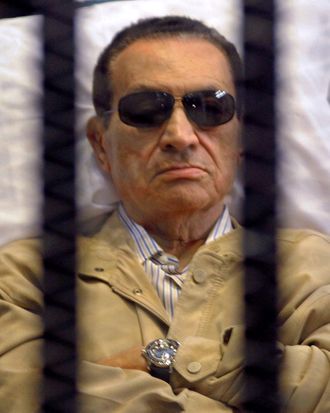 Former Egyptian President Hosni Mubarak sat steely eyed in a court cage today — yes, you read that right — as a judge referred to his 30-year rule as a "darkened nightmare" and handed down his sentence: life in prison. The 84-year-old Mubarak, who just last year survived a coma, was charged in relation to the more than 850 protesters killed during the Arab Spring uprising that finally ousted him from power.
The harsh sentence against the 84-year-old former leader appeared aimed at defusing tensions ahead of a divisive runoff presidential race that pits Mubarak's last prime minister against the Muslim Brotherhood's candidate.
Tahrir Square activists had complained of a return to the same-old, same-old when the Mubarak regime tussled with the populist Brotherhood. But while his former prime minister tries to get back into politics, Mubarak will be locked away with his interior minister, who is also serving a life sentence over the protester deaths.