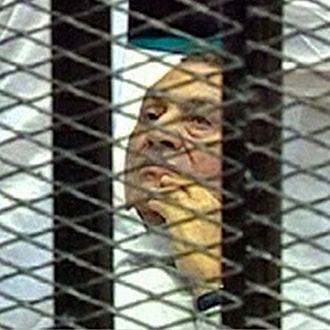 Egyptian state news agency MENA announced earlier Tuesday that 84-year-old ousted president Hosni Mubarak was "clinically dead," but more recent reports indicate that Mubarak is alive but gravely ill and in a coma after suffering a heart attack and stroke. Mubarak has since been moved from prison to a military hospital in a suburb of Cairo.
General Mamdouh Shaheen, a member of the Supreme Council of the Armed Forces, told CNN, "He is not clinically dead as reported, but his health is deteriorating and he is in critical condition." Meanwhile a military source told Reuters that Mubarak was "almost stable," but didn't expand. Said an Al Jazeera reporter from Cairo, "We do understand from family sources that Hosni Mubarak is improving. We believe he is still in a coma."
Mubarak's lawyer Fareed El Deeb offered his account to CNN with background on Mubarak's health. "He has been in a coma for hours now. He has had water on the lungs for 10 days now and his blood pressure is down today, which obstructed his breathing and forced doctors to put him on a respirator," El Deeb said. He was given medicine intravenously to relieve the brain clot, and electric shocks were used to revive him but there was no substantial response. He is not dead as reported."
After 30 years in power, a judge banished Mubarak to life in prison on June 2 on charges of complicity in the killing of protesters during last year's Arab Spring. The judge described Mubarak's rule as "the blackness of a chilly winter's night" as the former leader lay in a hospital bed during the proceedings.
Egyptian unrest continues as protesters gathered in Tahrir Square again on Wednesday "hoping to reignite the revolution." The results from the nation's first presidential election in which Muslim Brotherhood candidate Mohammed Morsi faced off against Mubarak's former prime minister, Ahmed Safik, are supposed to be announced later this week.