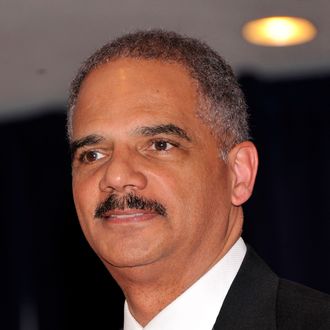 Photo: Stephen Lovekin/Getty Images
Meanwhile, elsewhere in Washington, D.C. today, the House of Representatives voted to hold Attorney General Eric Holder in contempt of Congress for refusing to release documents following the "Fast and Furious" weapons operation. Many Democrats, including the Congressional Black Caucus and House Minority Leader Nancy Pelosi, walked out in protest, while 17 voted yes along with 238 Republicans for a final tally of 255 to 67. (Two Republicans also crossed party lines.) Holder becomes the first sitting attorney general to receive such a citation, while Democrats shrugged off the move as a cheap political play. Pelosi called the vote "irresponsible," and suggested it was retaliation. "The whole reason that they want him to resign is because he's looking into voter suppression," she said. "It's all connected. The Supreme Court decision, suffocate the system with money, suppress the vote, poison the debate."
Now what? Probably nothing, says the National Journal:
The immediate impact of the House's action – beyond any political repercussions – is almost nil. What's likely next to happen, according Republican congressional sources, is that the lead House committee in the matter, chaired by Rep. Darrell Issa, R-Calif., will file civil suit in federal court, seeking a declaratory judgment that Holder is in contempt and an injunction ordering him to comply in turning over the documents. But that action could take years to be sorted out through any appeals process. The House also has the option of referring the matter to the U.S. Attorney for the District of Columbia for prosecution of Holder in federal court, but Republicans know the department would probably refuse to charge its own leader.
CNN concurs. A vote on the civil contempt resolution will follow, which could also allow the House to sue Holder for access to records the White House claims are protected by executive privilege.
"Today's vote may make for good political theater in the minds of some, but it is – at base – both a crass effort and a grave disservice to the American people," Holder said in a statement. "They expect – and deserve – far better."
So how about that health-care law?