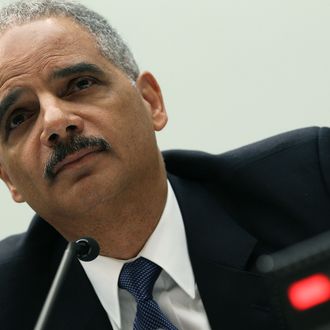 Photo: Mark Wilson/2012 Getty Images
Congress is sending the governmental equivalent of a fourth prodding e-mail to U.S. Attorney General Eric Holder, one reading something like "Hey! Just checking in on this. Again" and containing a power CC to constitution@usa.gov. What is actually happening: House Republicans, led by Darrell Isssa, are threatening to hold Holder in contempt of Congress if he doesn't hand over papers pertaining to the Fast and Furious scandal, in which the ATF let thousands of American-bought guns be taken into Mexico.
Dozens of Republican lawmakers have called on Holder to resign over his handling of probes into the gun operation and leaks of classified national security information. Republicans have also criticized how the Justice Department under Holder has prosecuted terror suspects and challenged state immigration and voting laws.

Holder said yesterday he offered to turn over the documents on condition that Issa give assurances that doing so would satisfy the subpoena. The Justice Department already has provided thousands of pages of documents, though not all of the materials Issa requested.
The House Oversight and Government Reform committees will vote today on the contempt measure. The rules around Congressional contempt proceedings are complex; legislators are supposed to refer charges to the U.S. Attorney for the District of Columbia, who happens to work for Holder. (When Karl Rove faced a similar situation, the U.S. Attorney chose not to enforce the contempt sanctions.)
But whether it goes through or not, the political motivations behind the move, meant to draw attention to Holder and Justice's perceived lack of transparency, will have been satisfied.
Claiming executive privilege is a pretty standard move for modern presidents in disputes with Congress — George W. Bush and Clinton both invoked it multiple times. (Members of the party that doesn't occupy the White House, like a certain former Senator from Illinois, invariably denounce executive privilege.) But today's maneuver is the first time that the Obama administration has gone there, and it certainly raises the stakes for what has been a fairly low-level scandal, albeit one that Republicans have vigorously pursued for years.
Fox News reported that Issa will push forward with his Oversight and Government Reform Committee's vote to hold Holder in contempt, and said that "[e]ven for Washington, the tone at the hearing was decidedly bitter and accusatory."
Update: The committee has indeed now found Holder in contempt.  The vote went according to party lines, with all Republicans voting to censure Holder thusly. Now, the full House will deliberate on whether a special prosecutor or U.S. attorney should be charged with forcing the administration to turn over the internal Fast and Furious documentation in question, but that probably won't be the end of things — the Obama administration will, in turn, probably bring the thorny constitutional conflict over when exactly executive privilege can be invoked to the courts.