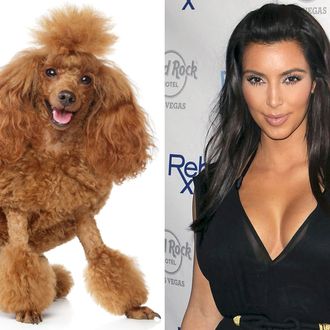 Photo: Denise Truscello/Getty and Istockphoto
OK, first, enjoy this amazing, confounding gem of a DNAinfo article entitled "Groom Wanted for Most Expensive Dog Wedding Ever, " excerpted in part below. What a weird, hilarious world we live in, you will think! Rich people and their money! Dog owners and their quirks! Charities and their shticks!
A designer dress has been selected for the bride, 8-year-old Coton de Tulear Baby Hope. A seven-piece orchestra has been booked. And enough sushi for 300 guests has been ordered.

Now, the only detail left to be ironed out before the July 12 canine nuptials is the groom. […]

Mumbai, a golden sable Havanese, recently won a kissing competition. And the owner of Shea, a 14-month-old terrier/schnauzer/Yorkie mix, said he is attracted to older women.

Now, it's up to the Internet to choose who will walk Baby Hope down the aisle. The pooch with the most online votes wins.

"It's going to be one of the most beautiful events any human or dog or any animal could ever attend," said Wendy Diamond, an animal rescue advocate and founder of Animal Fair, the organization that is putting on the wedding.

"[But] don't worry," she added with a laugh. "The dogs don't have to live together or sleep together, so it will be a wonderful relationship for the rest of their lives."
Now! Here's the magic trick. Replace every mention of the puppy bachelorette with the name, say, Kim Kardashian. Now the whole thing probably makes you deeply sad, right?