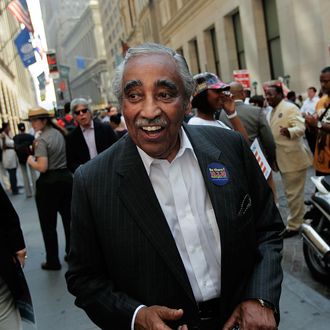 Representative Charles Rangel.
Photo: Chris Hondros/2010 Getty Images
Scenes from a three-way brawl: Adriano Espaillat is shouting, trying to be heard above the sirens of fire engines screaming down Broadway behind him and the rumble of the No. 1 train churning on the elevated tracks above him. It's 95 degrees and brutally humid on a Thursday morning, good reasons that only a dozen people are gathered on the West 127th Street sidewalk to listen, most of them sign-waving Espaillat campaign volunteers. What Espaillat has to say isn't terribly new or original — he's in favor of energy subsidies for small businesses and a higher minimum wage for workers. It's the choice of location that's supposed to convey the real message. Espaillat is running to defeat 21-term congressman Charlie Rangel, so he's standing across the street from a giant Columbia University construction site and decrying what he claims are the self-serving deals of the old guard on projects like this one.
"What a sham, what a travesty," he says. "Columbia should have been a model — all the underground talent should have gotten a shot at jobs. That did not happen. These projects should not just be for one corner of the district, but for everyone in the district … It must not be only an insider trading game where only the people who are connected get the opportunity."
Another subway groans overhead, this time blowing its horn and drowning out the state senator.* When the train passes, Espaillat grins; over his right shoulder is a sign advertising his endorsement by the transit workers' union. "They're helping me," he says. "Just not right now."
The next morning, the temperature is even higher inside Harlem's P.S. 192. It's a graduation ceremony for the fifth grade; the kids, in their caps and gowns, look like melting heaps of satin. Nevertheless, the first speaker is wearing a very dark suit and his tie is cinched tight to his neck. Clyde Williams goes through the usual platitudes about the importance of education, but then he grabs everyone's attention with a personal anecdote.
"Growing up in Washington, D.C., I rode a bus an hour and a half each way to high school, and I passed the White House every day. I didn't know a single person who'd ever worked there," he says. "But because I studied and worked hard, I grew up to work in the White House for two presidents."
The first of those employers, Bill Clinton, brought Williams to Harlem in 2000 to run the public policy part of the ex-president's foundation. He's been strategizing how to run for Congress pretty much ever since, jumping in this year and pursuing the race with a seething intensity.

Two hours later, Rangel uses a cane to steady himself in front of City Hall. His campaign has staged a press conference to showcase the congressman's support from Latino elected officials, and to emphasize Rangel's work supporting expanded immigration. Rangel can still be movingly eloquent on the promise and contradictions of America.
"Whether you speak Spanish or English, I love having you here, and we're going to make sure you get a fair shake from that lady that stands in the harbor," he says in his trademark gravelly rasp. "I think they call her the Statue of Liberty. And that's for everybody, not just for Europeans."
But after several years of what he considers persecution over his taxes and his living arrangements, Rangel often rambles into bitter, unprovoked diatribes about the Post and the Times. Everything is deeply personal for him. When a reporter asks Rangel to explain his recent illness, and why he's still getting daily intravenous treatment, he spends a good five minutes describing a virus that lodged in the cartilage between his spinal discs — perhaps not the best way to demonstrate your vitality.
"Rather than take the risky option of surgery, it was decided that antibiotics, a constant dose of it on a daily basis, could get me out of bed, could get me walking, could get me in a wheelchair, could get me on crutches, could get me into a walker, could get me on this [cane], and could get me in a marathon," Rangel says.
The last line draws a laugh; even his antagonists in the press have some affection for the old rascal.

Tuesday's Democratic primary in the 13th congressional district seems a wonderfully symmetrical contest: The incumbent is the personification of old black Harlem; the strongest challenger is a member of the growing Latino population; and the upstart contender comes from Harlem's emergent buppie class. The dynamics aren't nearly that tidy, however, because late last year the state legislature, under court order, reconfigured the district, shrinking the Upper West Side portion and extending the borders into the Bronx. The Bronx component is the reason Espaillat is in the race — he's counting on Hispanic votes to make him the country's first Dominican congressman. Yet the Hispanic vote is hardly monolithic, and Rangel has been able to peel off important endorsements from Bronx borough president Ruben Diaz and one of Diaz's predecessors, Freddy Ferrer. The shift from a traditional September primary date to late June also scrambles the turnout calculus. "My voters may be on vacation, they may not know, they may be asking me on the 27th, 'When does that election come up?"" Rangel says.

What's easy to assess are the candidates' strategies and appeals. Rangel is running on seniority: He's been in Washington forever and knows how to deliver federal money to his district. Espaillat, in addition to appealing to ethnic pride, says Rangel has been around forever and failed: "The current leadership is in the minority," he says, meaning House Democrats and Rangel. "It was asked to step down from the chairmanship of Ways and Means. Over 60 Democrats lost on their watch, and they have no power. So you need a fighter who can bring back the Democratic majority." Williams is the brash newcomer, beholden to none of the entrenched political institutions and the darling of major editorial boards, including the Times and the Daily News.

Williams, 50, doesn't just want to win; he wants to blow away what's left of the Harlem Democratic machine. "The way Charlie deals with politics is, you go in the back room and you cut a deal," Williams tells me one day, sitting in a Lenox Avenue restaurant. "You can't deal with these guys. You think Eric Cantor and Paul Ryan are gonna cut a deal with Charlie Rangel? It's not about to happen … Espaillat? He's a nice guy, but he has no ideas. And you're telling me you're going to send the dysfunction you have in Albany to Washington?"
He practically spits out the french fry he's been chewing. Williams — who worked at the Democratic National Committee and whose wife, Mona Sutphen, was President Obama's deputy chief of staff — has backed up his emotional ferocity with policy substance. He reels off proposals on everything from mortgage refinancing to weakening the NRA. His campaign mail and phone banks have been targeted to reach the voters most likely to back him. "We know who our voters are," he says, "now we've got to get them to the polls."

The number of votes needed for victory will be depressingly small, probably around 30,000. Espaillat's team sees Times and Daily News endorsements of Williams as a perverse gift to their own candidate, increasing the chances that Williams and Rangel will split the black vote. Perhaps, but there's also a more ironic possibility — that Williams wins with white votes, the same segment that was decisive in Rangel's first victory over Adam Clayton Powell way back in June, 1970.
"The race is set up perfectly for Espaillat," says a Democratic strategist not working for any of the candidates. "Rangel and Williams could cancel each other out, and Espaillat wins on Latino votes. On the other hand, Williams has run the best campaign, far better than anyone expected. But it's still very hard to imagine Charlie losing. I have no idea who is going to win."
And for all the changes in the district's racial demographics, one enduring New York reality will likely be decisive: The power of the labor unions. Rangel has the most significant electoral unions, including SEIU 1199, in his corner. If they deploy real get-out-the-vote ground troops Tuesday, Rangel will be back in Washington for yet another term. Would it be his last one, ending when he's 84 years old? "You'll have to ask a higher authority," Rangel says with a roguish twinkle in his eye. Then he pauses before two steps, reaching out his hands for support and grasping the shoulders of two men — both of them reporters, including one from the Post. On this sweltering afternoon, Rangel's descent is gentle. He could be in for a harsher landing Tuesday.
*A previous version of this post incorrectly stated that Espaillat is a state assemblyman.