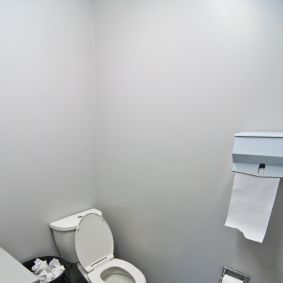 There are, in this modern world of ours, an ever-proliferating number of places to conduct a work meeting that might previously have happened over drinks. As the Wall Street Journal tells us today, some women in Manhattan are heading to nail salons for convivial dealmaking and networking that come coated in Essie Tart Deco; the Times recently filled us all in on the new practice of taking a client to Soul Cycle rather than a bar. "In the sales process you want to accelerate personal relationships," an expert explained to the paper. "Vulnerability yields intimacy. Intimacy yields trust." But Soul Cycle and nail salons? So over. The new hot place for vulnerable, intimate work meetings, Daily Intel has learned, is the office bathroom.
"Did you read that e-mail I just sent you?" Brunette Woman in Sales (we think?), 38, (we are guessing here; please don't be offended if it's actually 31, you look great, lady!) said, crisply, to Blonde Underling, 27 (ish?) just the other day in the New York offices, for instance. The two continued to talk about things involving words like "ad-clickthrough rates" and "spreadsheets."
"She couldn't escape me, because she was clearly there to pee and it would have been really weird to walk out as soon as she saw me," Brunette Woman explained to Intel in a completely imaginary conversation. "It's a really effective, efficient way to get things done. Not much time out of my day at all!"
Plus, she added "It's not noisy like a bar, aside from the occasional flush. And the bright lighting makes it especially easy to read the trapped-animal expression on my co-worker's face!"
The office bathroom also offers women the opportunity for the sort of "soft" bonding across departments and up the org chart that career-counseling experts say (in every single one of these articles, do you really want us to call up some Ph.D or lecture-circuit type to say the same common-sense thing in the same way, again?) is crucial to helping people get ahead at work — and can sometimes be more elusive for women, busy with a second shift or simply uninterested in the office fantasy-basketball situation, to achieve.
"That Nars Orgasm blush works on every complexion," Woman From Unidentified Other Department once observed to Intel, who agreed while shellacking her face in the stuff and wondering, in the fluorescent lighting, if the opposite was not in fact true and the woman was being sarcastic. They now smile at each other when walking in and out of the restroom. Fruitful collaboration cannot be far behind.
While most office-bathroom meetings currently involve pairing of co-workers, certain undisclosed but, we swear, totally hip observers of trends say that they think client meetings can't be far behind. Especially in those offices where they have the really nice soap and flowers and, like, plush chairs and only mildly tacky art and everything smells really genuinely clean, because who wouldn't want to do business with a firm that has such a Grade A bathroom? Anyone can do a nice meeting room or pick a good restaurant, but the office bathroom is where quality and attention to detail really come through.
However, the trend may not cross gender lines. "Oof, yeah, we try not to talk," office worker Joe Coscarelli, 23, told Intel of the men's room. "Or I do, anyway."