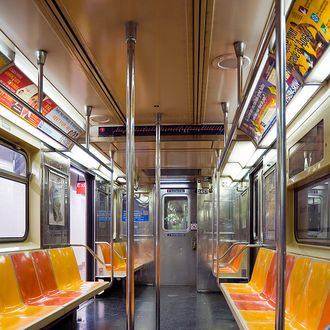 A fine place to birth a baby, apparently.
Photo: Stuart Pinkney/Stuart Pinkney
Yesterday a J train would have run over a baby if it wasn't for the heroics of the formerly unemployed Delroy Simmonds. Today the subway line made amends by playing host to the birth of a healthy baby boy. Wanda Dueno went into labor in the wee hours of the morning and hit the intercom as the empty car headed to the Chambers Street station. When conductor Veronica Stevens found her she was holding the boy in her arms. As police arrived the new mom said she was embarrassed about "the guys" seeing her in such a state. "I said, 'Girl, they've seen worse than this,'" Stevens said.