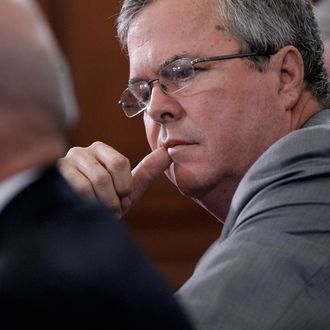 Photo: Chip Somodevilla/2012 Getty Images
Former Florida Governor Jeb Bush ignored repeated calls to enter the 2012 presidential race, and in hindsight, that was probably a mistake. In a CBS This Morning interview that airs on Thursday, Bush says, "This was probably my time … There's a window of opportunity, in life, and for all sorts of reasons."
It seems that after witnessing the circus sideshow that was the GOP primary race, he's realized America might have been ready for another Bush presidency. Though Bush isn't sure that he fits into today's GOP. In the past he's called the party's direction "a little troubling," and he tells Charlie Rose, "I don't know, given what I believe and how I believe it, I'm not sure I would have been successful as a candidate, either. These are different times than just six years ago, when I last ran, or even longer than that."
There's one decision Bush isn't questioning: He won't be Mitt Romney's running mate.
"I'm not going to do it. I'm not going to be asked. And it's not going to happen. That doesn't mean I don't have a voice. It doesn't mean I don't want to enthusiastically support Mitt Romney. I intend to do that, I'm doing it," Bush said. "He's got a great list of candidates that I'm sure he's thinking about."
Bush hasn't ruled out a future presidential run, but he'll spend at least the next four years coming to terms with the fact that he passed up an opportunity to run against a disgraced Pokémon-quoting pizza man and a guy set on founding a moon colony.