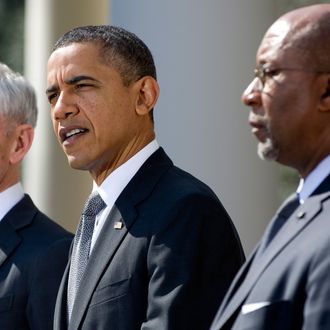 Photo: Saul Loeb/AFP/Getty Images
John Bryson, the United States Secretary of Commerce, is under investigation for leaving the scene of an accident only to cause a second collision in California on Saturday evening. According to a police report, Bryson rear-ended a Buick with his Lexus as it waited for a train to pass around 5:05 p.m., and spoke with the three male passengers before fleeing, hitting their car again on his way out. About five minutes later, he reportedly caused another crash and "was found alone and unconscious behind the wheel of his vehicle." Drugs or alcohol are not suspected at the moment, but have not been "ruled out" entirely, police said.
"Secretary Bryson was involved in a traffic accident over the weekend in Los Angeles," the Commerce Department said in a statement on Monday. "He was taken to the hospital for examination and has been released. He has sustained no injuries and the investigation is ongoing." The first crash is being considered a potential felony hit-and-run. Bryson reportedly passed a breathalyzer test at the hospital and submitted to a mandatory blood test, the results of which are pending.
Bryson was confirmed in October as Obama's nominee for Commerce Secretary, a position that's been plagued with headaches for the president. New Mexico Governor Bill Richardson withdrew from consideration in 2009 amid a federal investigation into his political donations, while Senator Judd Gregg also bailed as a nominee before his own financial scandal surfaced.
Asked about Bryson's wild ride this morning on CBS, Barack Obama adviser David Axelrod said, "Obviously, it's concerning," but didn't comment further. Host Erica Hill indicated it was a bad start to the week, to which Axelrod replied, "You know what, Erica, again, at the end of the day, there are bigger things on the minds of the American people." But Team Obama can expect to have some version of that conversation a few more times, at least.
Update: A spokesperson for Bryson said he suffered a seizure and has returned to D.C.
Update II: A since-deleted tweet by American Crossroads, the Rove-backed conservative super PAC: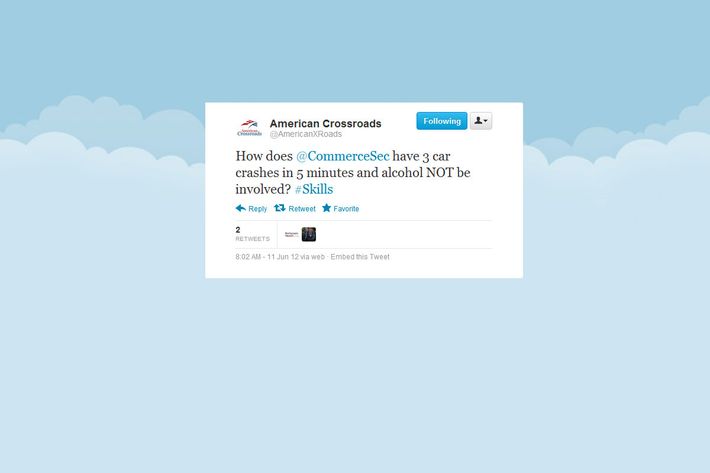 #Skills
Update III: American Crossroads is sorry: "Earlier Bryson tweet with hashtag ‪#skills‬ attempted levity (before facts known) and failed miserably. We took it down and regret the tweet." #Skills