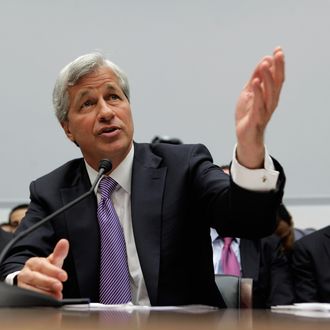 Who's counting?
Photo: Chip Somodevilla/Getty Images
If you were up at 2:30 a.m. today, having the night sweats while feverishly awaiting today's Supreme Court verdict, you might have noticed a little story on DealBook that said that the amount of money JPMorgan Chase lost on its London Whale's trades, which were once dismissed as a "tempest in a teapot" by a guy with good cuff links and estimated at around $2 billion, had multiplied to as much as $9 billion.
The $9 billion figure, which was broken by Teri Buhl yesterday, is not necessarily the amount JPMorgan has lost as of this moment — it's the maximum amount it could lose, since the Whale's trades are still being unwound.
CEO Jamie Dimon has said he still expects the bank to be profitable on the quarter, and a person with knowledge of the situation told Intel this morning that the current mark-to-market value of the loss likely stands somewhat lower, more in the neighborhood of $5 to 6 billion.
JPMorgan's stock is down this morning, but it's not entirely clear why. There is no new information about the details of the London Whale's trade, or the market effects of unwinding such a massive CDS position. Even if the loss is $9 billion or more, the same things that made investors jumpy two weeks ago — lax oversight of the CIO, regulators' likelihood to put a crimp on JPM's earning power in future quarters — are still true.
What's new, though, is that it seems the CIO got direct orders from someone very high up at JPMorgan, perhaps Dimon himself, to exit the whale trade, stat, no matter how much a speedy exit would cost the bank:
The bank's exit from its money-losing trade is happening faster than many expected. JPMorgan previously said it hoped to clear its position by early next year; now it is already out of more than half of the trade and may be completely free this year.
We should know more on July 13, when the bank reports its earnings and discloses more about the extent and size of the trading losses. This morning, a JPMorgan spokesman declined to comment.