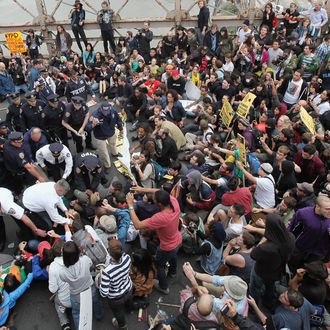 Photo: Mario Tama/2011 Getty Images
Yeah, it was probably pretty hard for 700-plus Occupy Wall Street protesters to hear police instructions from one bull horn on the Brooklyn Bridge, said a judge yesterday. U.S. District Judge Jed Rakoff ruled that the demonstrators' lawsuit against police for the mass arrests last October can proceed, but decided that Mayor Bloomberg, Ray Kelly, and the city cannot be defendants in the suit, rejecting the protesters' claim that a policy of false arrests meant to suppress the protests was coming from the top.
Piles of people were accused of disorderly conduct for the march, in which demonstrators took over traffic lanes, but Rakoff said video shows that NYPD officers "exercised some degree of control over the marchers, defining their route and directing them, at times, to follow certain rules." He added, "Indeed, the plaintiffs' video shows what should have been obvious to any reasonable officer, namely, that the surrounding clamor interfered with the ability of demonstrators as few as 15 feet away from the bull horn to understand the officer's instructions."
The Occupiers want unspecified damages and for the arrests to be ruled unconstitutional. In green-lighting the suit, Rakoff noted "what a huge debt this nation owes to its 'troublemakers.' … Prudence, and respect for the constitutional rights to free speech and free association, therefore dictate that the legal system cut all non-violent protesters a fair amount of slack." How quaint.