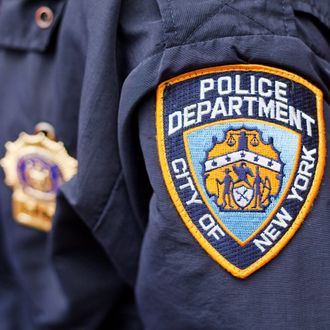 As a general policy, police officers shouldn't be hitting any innocent bystanders, but that goes double if the person in question happens to be a judge. Early on Friday morning, Thomas D. Raffaele, a 69-year-old justice of the New York State Supreme Court, was walking down a Queens street when he noticed an angry crowd growing around some police officers, who were standing over a cuffed and shirtless man lying face down on the pavement. Raffaele called 911 to report that the officers needed backup, and then, he says, a cop delivered a karate-chop-like blow to his throat.
The crowd was heckling the two officers for being too violent with the suspect, and Raffaele says the cops started screaming and cursing at the onlookers before he was assaulted. A sergeant on the scene dismissed Raffaele's original complaint, but now the incident is being investigated by the police Internal Affairs Bureau and the Civilian Complaint Review Board.
If things weren't bad enough for the officers, the New York Times write up makes it clear that Raffaele isn't just a respected member of the court — he's also an exceedingly lovely man. After taking his parents to the airport for their move to Houston, Raffaele spent the rest of the day cleaning out their home with his friend Mohammed Rashid, who runs a tutoring center. The paper reports that the pair were in Jackson Heights because, "Mr. Rashid had just helped him move two tables; he donated them to the tutoring center."
Perhaps donating old furniture doesn't make Raffaele Citizen of the Year, but the Times also notes that he "was among the judges around New York State who volunteered to perform weddings on the Sunday last summer when New York's same-sex marriage law went into effect." Justice Jeremy S. Weinstein also vouched for his colleague's character:
I think, universally felt, that he is one of the most soft-spoken, thoughtful, decent human beings around … I think his temperament is admired by certainly his colleagues in the bar and I believe the community that he served.
All of this makes Raffaele's version of events seem all the more believable, but perhaps officers didn't tangle with the wrong bystander. When asked if he intends to sue,  Raffaele said, "At this point, no, I don't." Right, because he's too damn nice for that.