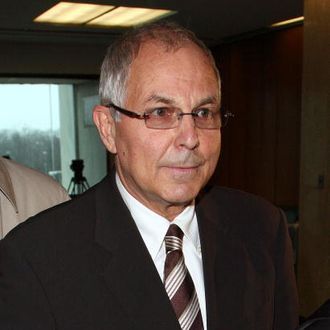 Peter Madoff may actually get to see daylight after his term.
Peter Madoff, the former chief compliance officer and general counsel at his disgraced brother's Bernard L. Madoff Investment Securities, is expected to accept a plea agreement on Friday that will send him to prison for ten years. The Wall Street Journal reports that prosecutors filed a letter concerning Madoff's plea in a Manhattan federal court on Wednesday, writing that the 66-year-old would admit to falsifying the records of an investment adviser, and a broad conspiracy count to commit securities fraud and other crimes.
The deal will also require him to forfeit a mind-boggling $143.1 billion for his role in the massive Ponzi scheme, a sum signifying all the money that passed through the firm during the time that he was supposedly ensuring that the firm was complying just fine with securities regulations. The Times notes that Peter Madoff's plea wouldn't actually amount to an admission of knowledge or participation in the scheme his brother was carrying on, but would support the government's contention that Peter Madoff was basically a "sham compliance officer" that in effect allowed his brother to rip off the life savings of hundreds of investors.