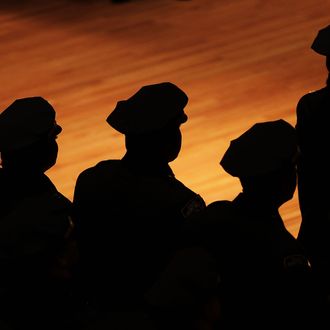 Photo: Spencer Platt/Getty Images2012 Getty Images
The NYPD has been caught up in the always-uncomfortable debate over religious freedom versus anti-discrimination policies. A Muslim-American man identified as "Farhan Doe" has filed a discrimination lawsuit against the NYPD after he was rejected from the Police Academy simply because he answered "yes" to the question, "Do you believe that homosexuals should be locked up?" on his 2009 application. Doe softened his views a bit in his next application, saying that he believes homosexuality is a sin, but could refrain from incarcerating gays.
Doe's lawyer argues that according to the First Amendment, "you can't discriminate against someone because they have a view you do not like." He says the NYPD should have let him enter the Academy, then booted him if he started harassing homosexuals on the job — because there's certainly no potential for lawsuits in that scenario.