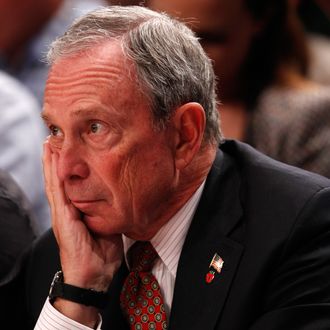 New York City Mayor Michael Bloomberg looks on as the New York Knicks play against the Miami Heat in Game Three of the Eastern Conference Quarterfinals in the 2012 NBA Playoffs on May 3, 2012 at Madison Square Garden in New York City.
Photo: Jeff Zelevansky/Getty Images
"If you have one [BLT] a month, that's okay. It's not going to cause weight. I love BLTs. Probably a lot of calories in a BLT when you put as much mayonnaise on it as I do." — Architect of New York City's proposed ban on soda in containers larger than sixteen ounces, Mayor Michael Bloomberg.