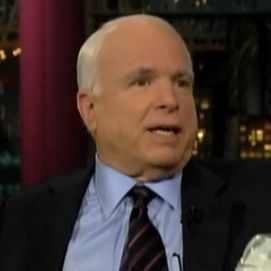 A recent series of barnburner national security articles from the New York Times has become a topic of fierce debate in Congress. The argument, though, isn't centering around the policies revealed by the articles — like Obama's "Kill List" and the use of a computer virus against Iranian nuclear power — but rather, on why the sensitive information was leaked to the Times at all.
Senator John McCain, perhaps nostalgic for the campaign trail of 2008, has accused the White House of breaking the law (and jeopardizing national security) in service of political goals. The timing of the leaks, at least to his mind, didn't just accidentally come soon after the general election season began in earnest. "This is not a game," said McCain, who is also calling for the prosecution of whomever is responsible for the leaks.
 He's joined in his concern by the House and Senate intelligence committees, who issued a bipartisan statement saying "The accelerating pace of such disclosures, the sensitivity of the matters in question, and the harm caused to our national security interests is alarming and unacceptable. These disclosures have seriously interfered with ongoing intelligence programs and have put at jeopardy our intelligence capability to act in the future."
The Obama administration hit back via Jay Carney by denying any political calculus had been involved in the leaks: "Any suggestion that this administration has authorized intentional leaks of classified information for political gain is grossly irresponsible," he said. The Times, for its part, mounted a minor defense of its action within an article reporting on the kerfuffle, quoting Harvard professor and former Bush advisor Jack Goldsmith saying "Keeping these programs secret may have a value. But there's another value that has to be considered, too — the benefit of transparency, accountability and public discussion."

Still, that's all a far cry from last year, when federal officials subpenaed New York Times reporter James Risen in order to figure out who'd leaked sensitive information about CIA policies on Iran to him.  Risen's information was about policies from the Clinton era, and so maybe that's the crucial difference, but the subpena came as part of a much broader crackdown from the Obama administration on internal national security leaks that seems, at least for the moment, to have been put aside.