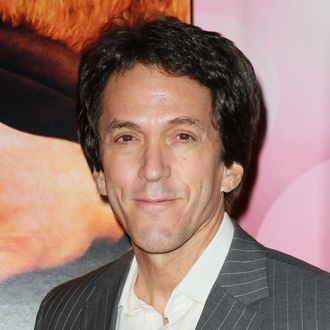 Photo: David Livingston/2011 Getty Images
You might think that Mitch Albom would feel some sort of kinship with E.L. James. After all, he knows what it feels like to have enormous commercial publishing success while enduring the turned-up noses of the highbrow literary world. But no: Albom read Fifty Shades of Grey, and he was a little shocked at what he found there, he writes in the Detroit Free Press:
To me, it was 120 pages of foreplay — nothing more than breathless longing — followed by a contract between the dominant and the submissive, followed by countless pages of erotic action best summed by the sentence, "You can DO that?"

I put it down.

And I felt … prudish.

It's not just those novels. It's everything. Last week, several new "art" films opened in town. One was called "Hysteria." It followed the invention of the vibrator. Really?
There's a lot more where that came from — "There was a recent ABC show "Don't Trust The B—- in Apartment 23" (The name is enough, right?)" — but the basic takeaway: You should feel ashamed of yourselves, book-buying and moviegoing women of America! Quit thinking about non-vanilla sex and go back to something more gosh-darn wholesome for entertainment. Mitch probably has some suggestions.