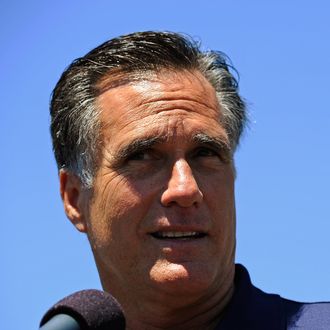 Romney, not a participant in the parade.
Photo: Kevork Djansezian/2011 Getty Images
Mitt Romney's candidacy for president has brought increased attention to the Church of Jesus Christ of Latter Day Saints, which opposes same-sex marriage and forbids extramarital sex. On Sunday, more than 300 Mormon church members marched in Utah's Gay Pride Parade in downtown Salt Lake City, marking the first time a large group of Mormons has ever participated, according to the parade's organizers. Parade Grand Marshal Lance Black tweeted, "In tears. Over 300 straight, active Mormons showed up to march with me at the Utah Pride parade in support of LGBT people."
"I think it's amazing," said Holly Nelson, a 38-year-old lesbian from Murray, Utah, as the Mormons walked past at the parade. "It's been so hard to live in Utah knowing the Mormon church is against the gay community."
The LDS church says it doesn't tolerate "gay bashing," but it does not condone homosexuality. One of the Church's Twelve Apostles, Dallin H. Oaks, wrote about the LDS Church's governing body's position on same-gender attraction, "Applying the First Presidency's distinction to the question of same-sex relationships, we should distinguish between (1) homosexual (or lesbian) "thoughts and feelings" (which should be resisted and redirected), and (2) "homosexual behavior" (which is a serious sin)."
America's most famous Mormon has yet to talk about his religious beliefs in depth, but it seems highly unlikely that he'll "evolve" on gay rights issues anytime soon. However, at a time when the faith is receiving more scrutiny than ever before, many Salt Lake City Mormons are eager to show that they don't support intolerance.