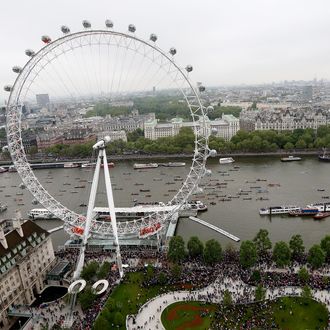 London Eye, Ferris Wheel has-been.
Photo: Scott Heavey/Getty Images
The city is reportedly in talks with Plaza Capital Group Management LLC to build a 600-foot Ferris wheel on Staten Island (close to the ferry landing, obviously.) If the plans actually go through, it would surpass the 443-foot London Eye to become the largest cantilevered observation wheel in the world, and it would probably have pretty fantastic views of Lower Manhattan. In which case, it's going to need a cool name, like the London Eye (but not "The London Eye," because it's not in London, and that name is taken.) Let's come up with suggestions for Mayor Bloomberg, who probably reads this blog every day. Not that we can think of any. The Ferrisgeddaboutit Wheel? We'll show ourselves out.