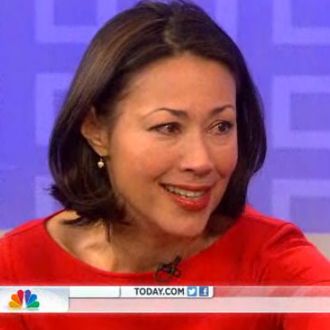 Curry on Thursday's 'Today' broadcast.
In case you missed it: As of Thursday morning's tearful good-bye, Ann Curry is no longer a co-anchor on Today, though she's sticking with NBC as an international news correspondent. The network's handling of Curry's exit has been widely described as "awkward," and NBC News president Steve Capus has made it more so with an interview he gave to The Hollywood Reporter in which he offered up some blunt justifications for Curry's ouster.
Asked why Curry did not work out as a morning TV host, Capus allowed that her weakness was convincingly presiding over morning TV staples such as cooking segments and celebrity interviews that make up a big chunk of the job.

"I think it was not where her real passion was," he said. "In her heart of hearts, I think she would admit that. I think her real passion is built around reporting on international stories. It's tough to convey a sincere interest in something if you don't possess it. We live in a HD world. Dan Rather used to say the camera never blinks. Well, this is an HD world now, and the camera picks up everything. And you could tell with her, you can tell with any anchor, whether they're into it or not. And I think we've now come up with a role that will play to her strengths."
He added that Curry was given the job because, after fourteen years as a newsreader and occasional substitute host, she "deserved a shot." However, he said, "We gave her a year to prove herself, and ultimately we came to the conclusion that she had played at the highest level she could. When you're in the major leagues of our profession, you've got to continue to be at peak performance in order to stay there."
Capus also praised replacement Savannah Guthrie as a "serious," "smart," and "endearing" journalist with "the ability to communicate clearly and in an approachable manner," and at one point compared her to Mary Tyler Moore.