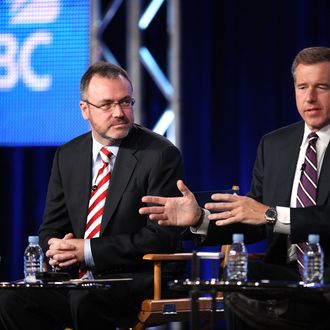 NBC President Steve Capus.
Photo: Frederick M. Brown/Getty
The prolonged booting of Ann Curry from her co-hosting gig at Today, following the NBC morning show's first ratings loss to Good Morning America in sixteen years, makes for a good jumping-off point into the depths of the network's issues. Both the New York Times and The Wall Street Journal provide just that in today's editions, detailing that all is not well for the longtime industry leader, and not just in the mornings. While prime time has been a problem for a while, the news division is now slipping, struggling, and "appears adrift" in other areas, according to the concurrent reports.
"Where it counts we have not had slippage," NBC News president Steve Capus said of the much-reported end to Today's winning streak. "That's what's real. The rest is spin and noise." But the Times goes to the numbers for the rest of the lineup:
Beyond "Today," which is down about 4 percent in total viewers and about 9 percent in that 25-54 age group, "NBC Nightly News" has declined about 11 percent among those 25-54. Its main rival, ABC's "World News," also is down about 8 percent. (CBS's newscast is up 1 percent.) On Sundays, "Meet the Press" is still the most watched show, but its lead over the second place "Face the Nation" on CBS has shrunk to just 2 percent in total viewers, while "Nation" is now ahead in the 25-54 group.

And NBC's effort to start a newsmagazine, "Rock Center," led by its chief anchor, Brian Williams, has been greeted with some of the lowest ratings in prime time. NBC News remains committed to it, however.
The Journal reports that Capus "publicly said as recently as April that the team in place at Today was the right one, but the show's executive producer, Jim Bell, and Mr. Burke, who have built a rapport since Mr. Burke came from his role as Mr. Robert's second-in-command at Comcast to lead NBCUniversal, favored a more aggressive approach, according to people familiar with the matter." While star host Matt Lauer crucially re-signed his contract, Curry caught the ax.
Capus's future, the Times notes, "had become source of speculation in the news business," but the paper nonchalantly adds at the end that he signed a new long-term contract this week. Sacrificing Curry may be enough for now, but with competitors gaining and foreboding reports like these building, she won't be the last one.