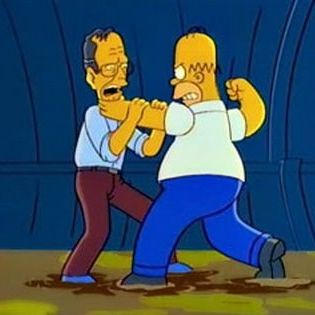 Homer knows how Romney's neighbors feel.
Living on the same block as a presidential candidate can be annoying, but there are perks, too. For instance, you get to air your grievances with your famous neighbor in the pages of the New York Times rather than simply complaining at the next backyard barbeque. Today, the "Home & Garden" section gets unusually political with an investigation into to how residents of La Jolla feel about one of Mitt Romney's three homes being located in their community. So far, the Romneys are having a hard time making friends in the neighborhood. Apparently people don't like it when you try to block their ocean view and report their drug use to the police.
Four years ago, the Romneys bought a $12 million three-bedroom Spanish-style villa with views of the Pacific (sounds lovey, but locals quip "it needs work"). Though real estate agents say the candidate's presence has boosted home values by 10 percent, residents had a plethora of charmingly petty gripes to share with the Times. These include Romney's entourage blocking in driveways, disruptions to favorite dog-walking routes, and Secret Service agents asking to use a neighbor's recycling bin.

The biggest issue is Romney's plan to do a major expansion to accommodate his large family. Romney's neighbors were asked to sign a document saying they had no objection to the new construction obscuring part of their ocean view, and they refused. The neighbors happen to be gay, as are six other couples in a three-block radius. The paper notes that Romney "moved into a neighborhood that evokes Modern Family far more than All in the Family." It isn't so surprising, considering that he's named Modern Family as one of his favorite TV shows.

Neighbors are also rankled by the Romneys refusing to allow them to use illegal substances in peace. Per the Times:
A young man in town recalled that Mr. Romney confronted him as he smoked marijuana and drank on the beach last summer, demanding that he stop.

The issue appears to be a recurring nuisance for the Romneys. [Mark] Quint, who lives on the waterfront near Mr. Romney, said that a police officer had asked him, on a weekend when the candidate was in town, to report any pot smoking on the beach. The officer explained to him that "your neighbors have complained," Mr. Quint recalled. "He was pretty clear that it was the Romneys."
Clearly, Quint only has one option:  Start a prank war with Romney, and hope that he'll sell the house to a more laid-back presidential candidate.