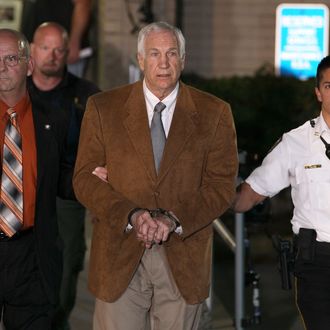 Jerry Sandusky.
Photo: Mark Wilson/2012 Getty Images
A week after former Penn State assistant football coach Jerry Sandusky was convicted of 45 counts of child sexual abuse, CNN's Anderson Cooper 360 uncovered several e-mails indicating that senior university officials knew about the allegations against Sandusky and yet failed to notify the authorities. In the e-mails, sent about two weeks after recruiting coordinator Mike McQueary caught Sandusky in the shower assaulting a boy, Penn State's then-president Graham Spanier, vice-president Gary Schultz, and athletic director Tom Curley discuss how best to confront Sandusky, when to inform Second Mile, his charity for at-risk boys, and whether to alert Child Welfare Services (they ultimately decided against doing so.) 
Schultz and Curley are currently facing charges of perjury and failing to report the abuse — McQueary recently testified against them — but one of the e-mails may prove particularly incriminating to Spanier, who hasn't yet been charged with anything. Agreeing with Schultz and Curley that giving Sandusky the benefit of the doubt is the more "humane and reasonable way to proceed," he writes:
I am supportive… the only downside for us is if the message isn't 'heard' and acted upon, and we then become vulnerable for not having reported it. But that can be assessed down the road.
This new evidence is likely to increase pressure on prosecutors to go after these and other former university officials who sat by while Sandusky kept his job and continued molesting children. The board and officers of Second Mile are also likely to face questions. Meanwhile, the organization has already tried to divert nearly $2 million in funds before victims have a chance to sue.