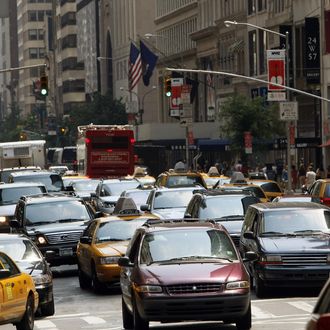 Photo: TIMOTHY A. CLARY/2007 AFP
Mayor Bloomberg's dream of covering the city in cameras may be coming true. A proposal to install as many as 40 speeding cameras throughout the city is gaining support in Albany, and the bill's sponsor says he expects it to pass the State Senate by the end of the legislative session this week. If a similar bill clears the Assembly, New York drivers who manage to find a stretch of road where they can move faster than 40 miles per hour will be rewarded with a computer-generated speeding ticket in their mailbox.
The Department of Transportation and various advocacy groups have been pushing for the cameras for years, and since the bill recently picked up a Republican sponsor, Andrew J. Lanza of Staten Island, it may finally go through. The current proposal calls for several dozen cameras, including twenty that rotate. Drivers who exceed the speed limit (usually 30 miles per hour) by more than 10 miles per hour would receive a $50 fine. Those caught going more than 30 miles per hour would get a robotically generated ticket for $100.
The city already has cameras that catch drivers who run red lights and ride in bus lanes, with the former generating $52 million in fines last year. Cynics suggest the potential for a huge new source of revenue might have something to do with the push to crack down on speeders. However, speed camera supporters point out that there are other benefits to making drivers obey traffic laws. Per the New York Times:
Proponents say the math is simple: Scores of New Yorkers are killed each year in speeding-related crashes, and the use of cameras has already proved effective in other cities. Since speed cameras were installed in Washington in 2001, the police said traffic fatalities had fallen 56 percent, though it was unclear how much of the shift was attributable to the cameras. (In New York City, there were 243 traffic fatalities in 2011, about a 38 percent reduction from 2001.)

Before the program began in Washington, one in three drivers exceeded the speed limit at the locations where cameras were later installed, the police said. Today, one in 40 drivers speeds.
Some complain that existing cameras lead to cab drivers being ticketed for what they believe are legal pickups and drop-offs in bus lanes, and say non-human ticket-writers can't judge situations where it's actually more unsafe to slow down or slam on the brakes. Still, lowering the number of pedestrians mowed down on city streets is a fairly compelling argument.