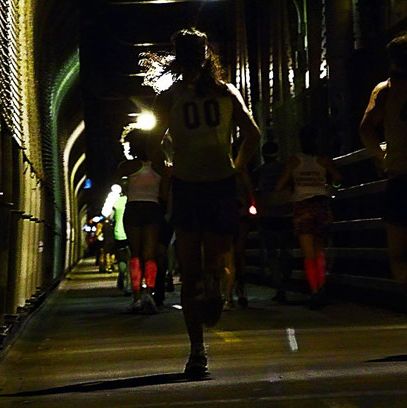 Photo: Vincent Lee Photography
"The race starts when I say 'go,'" David Trimble yelled late last night at the inaugural Midnight Half Marathon.  Some 70 runnners were lined up for the unsanctioned 13.1 mile race without course marshals or even a set route, starting and ending in the East Village and looping through Brooklyn on the way. The frenetic energy of runners whizzing by in gear emblazoned with the names of their running crews — NBR, South Brooklyn, BridgeRunners, Team Drunk Diet — made it feel like a street athlete's version of The Hunger Games.  
Even seasoned runners found the course difficult, in part, because of the DIY navigation required. "If you get lost on the course, nobody is coming to look for you," explained race co-organizer Trimble, who also created the Red Hook Criterium bike race.  Runner Jesse Penridge said the dark terrain of Red Hook streets requiring "more punctuated, bigger steps and kicks" than a typical race like the New York Marathon. And a different sort of exhaustion sets in while running when you should be sleeping. Cipriana Cuevas, who also ran the New York Road Runners' Wall Street Run earlier in the day on Thursday, said she resorted to asking bouncers for directions.

The cranes in Red Hook, the skyline views over the bridges, and streetlight illumination made this a uniquely visual race.  Two mandatory athlete check points in Red Hook and Williamsburg assured that runners completed the entire distance before racing back over the Williamsburg Bridge, traversing cars on Delancey, and reaching the finish. Prizes ranged from $200 to $50 for the first through third place male and female finishers.  

"We kept the entry low … this is for the love of running," explained race organizer Joe DiNito, founder of Orchard Street Runners. The overall winner, Knox Robinson, completed the race in 1:15:54.  

Competitor Luc Carl, author of The Drunk Diet and host of the SiriusXM metal show "Hair Nation," said the Midnight Half draws "a different breed of people" who "live by one creed: have a good time all the time … train hard, run fast, and party last."  Naturally, the race bib also served as entry to an "after" party that started before the race even began.

"I think it's irresponsible to party like we do and not exercise," DiNito said. And, presumably, vice versa.