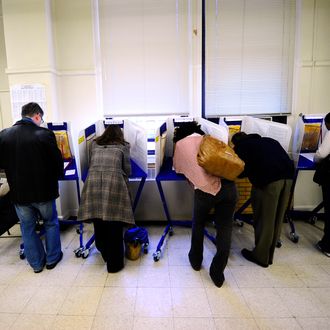 Photo: Emmanuel Dunand/AFP/Getty Images
It's primary day in New York, but not everybody knows it. This is the first year that the Congressional contests have been in June instead of September, owing to a federal court ruling, and as a result, much of the campaigning being done around town is simply in an effort to get out the vote. Even for a primary, turnout could be historically low — or not! "It's a great unknown," one consultant told the Times. "I am less sure of what the turnout will be in this primary than I've been in just about any primary." Candidates are bringing out the big guns to remind people, just in case:
Campaigns were desperately trying to get voters' attention with big-name endorsements and robocalls, enlisting former President Bill Clinton (for Representative Nydia M. Velázquez of Brooklyn, who is seeking re-election); Gov. Andrew M. Cuomo (for Ms. Velázquez and two other Congressional candidates, Assemblyman Hakeem S. Jeffries and Assemblywoman Grace Meng); former Mayor Rudolph W. Giuliani (for Representative Bob Turner, a Republican candidate for Senate); and the former Buffalo Bills running back Thurman Thomas (for Wendy E. Long, also a Republican candidate for Senate).
The quality on that list drops off quite quickly.
But it's not for a lack of interesting races. Old-timer Charlie Rangel is clinging to political life, while rising star Hakeem Jeffries must first fight off notorious quote-machine Charles Barron. Senator Kirsten Gillibrand's Republican challenger will be chosen, and even Occupy Wall Street has a local candidate in the mix. Redistricting is a whole other variable.
And yet victories may come down to hustle: The Rangel campaign has contracted livery drivers to shepherd people to the polls, while his opponent, Adriano Espaillat, is relying on volunteers. Congressional candidate Grace Meng's people had a plan this week to target 20,000 voters and "contact each of them 10 times, with phone calls, in-person visits and mail, from Friday through Tuesday." Her spokesman put it simply: "Folks don't vote in June." But we'll see today if obsessively bugging them (to have a say in their future) can fix that.