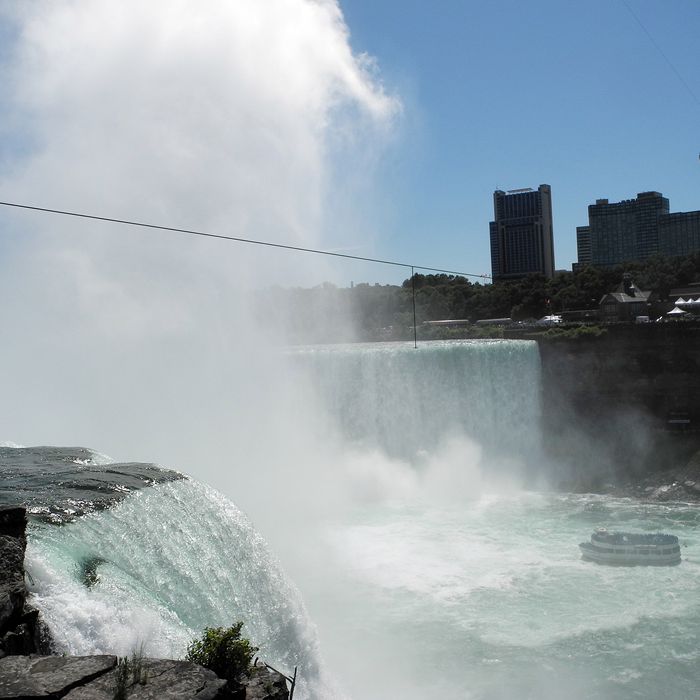 Whoa.
Photo: Brigitte Dusseau/AFP/Getty Images
Before a live ABC audience tonight, Nik Wallenda will battle darkness and wind and rain as he attempts to traverse 1,550-feet of Niagara Falls on a tightrope, the first time the stunt has been attempted in over a century. Thanks to a mandatory-no-ifs-ands-or-buts safety harness, though, one thing he doesn't have to worry about is dying. As the Times explains, "The Disney Corporation, which owns ABC, does not want a man to fall to his death on live television." That would not be a very "Disney" thing to happen.
And yet, absent the threat of mortal danger, the stunt just doesn't have the same appeal, one man tells the Times.
Gil Olsen, a 39-year-old from Colchester, Conn., said the harness would lessen the accomplishment.

"I think it was good until he had to wear the safety line," Mr. Olsen said. "Now it's just any person — I would try it if I had a safety line on."
Sure you would, Gil.
We sympathize with Gil, though. Once you bring a harness into the equation, the stakes are no longer whether Wallenda will live or die, but whether he'll succeed or fail at performing a very tricky balancing act. It's like going to the circus.
It's not that we want Wallenda to die. We want him to live a long life of walking across things that people aren't supposed to walk across. What we'd like is the excitement of watching him face death, and subsequently vanquish it. That's what Wallenda, a seventh-generation high-wire acrobat, would prefer as well. And there are rumblings that maybe, just maybe, he might go rogue to make it happen. According to the Buffalo News:
"I'm betting he takes it off," said State Sen. George D. Maziarz. "I guess we'll see." …

While ABC officials say the deal they have with Wallenda mandates he wears the tether for the entire walk, one of his lawyers said the daredevil may have a different interpretation.

Three other officials also said they believe he might detach the tether once he gets on the wire.
Wooo! Take it off! That's the first time we've been able to yell that in a non-perverted way.